McGregor and Diaz scuffle ahead of UFC 196 bout (VIDEO)
Published time: 4 Mar, 2016 13:48
Edited time: 4 Mar, 2016 14:15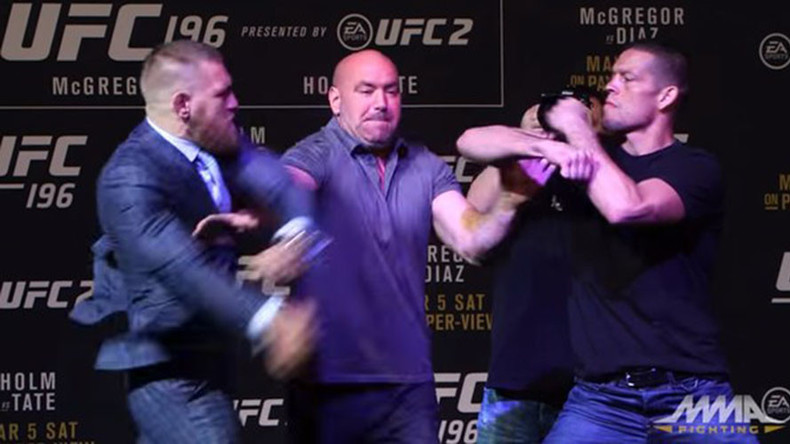 The UFC 196 pre-fight press conference ended in chaos after Conor McGregor and Nate Diaz scuffled during their staredown.
The pair had squared up for the usual face-off between the fighters, but McGregor took exception to Diaz placing his fist close to his face and aggressively slapped it away.
Security jumped in to pull the fighters apart, before members of both entourages jumped on stage to get involved.
Order was quickly restored with the duo eventually being led away through separate exits.
The ill-feeling between McGregor and Diaz escalated during a 45-minute press conference where they traded a series of insults.
McGregor kicked off the tension when he blamed Diaz for the fight taking place at welterweight as opposed to 155 pounds, but Diaz hit back saying he would have been happy to fight at the lower weight.
The Irishman's attention quickly turned to money as he focused on the increased exposure he has given to the UFC.
"In 21 years or something since the company has started, 2015 was its biggest year," McGregor said.
"That's down to me. He's going to make his first million here and he really should be thankful and grateful for this opportunity I've given to him."
Diaz was quickly shot down this week after he tried to claim he was the reason why McGregor was being paid so well: "Don't talk about money, Nate - you're broke," said McGregor.
After winning his previous bout against Jose Aldo in just 13 seconds, McGregor said he was prepared to go longer against Diaz if necessary.
"The [Aldo] fight was over so quick I didn't get to show that so part of me wants to stretch it out that little bit and show the fans some new sequences and some new moves of attack and defense.
"I just hope Nate can last, he's tough and never been KO'd but he's been TKO'd," he said. "I'm hoping he can last late into the first round and early second, but I ain't holding my breath because when I come out fast, spinning and attacking and crazy, unpredictable, they become panic grapplers and that's what I face all the time.
"I just hope for the fans' sake that Nate shows up and that's all I got to say about that."
McGregor's finest moment came when he was quizzed about what his dream fight would be.
"The dream fight - you know, there isn't really," he said. "I'd love to fight myself if I really could - imagine the numbers that one would do if there were two of me."
Indeed, the Irishman is never shy to say what he thinks when in front of the camera – something which surely helps him to sell his fights.
(WARNING: VIDEO CONTAINS EXTREMELY STRONG LANGUAGE)
The fight will be the fourth time in his last five UFC bouts McGregor has fought at the MGM Grand Garden Arena in Las Vegas, although his previous fights there have only lasted a total of 11 minutes and 16 seconds.
Diaz has enjoyed two of his biggest UFC victories in Vegas, beating Donald Cerrone in 2011 and Gray Maynard in 2013.
Both men are confident of further success on Saturday.
"If he's still conscious when he hits the mat I will crush his hips and pass his guard and mount him and strangle him," McGregor predicted.
"You got choked out by two nobodies," Diaz retorted, referring to McGregor's two career submission losses. "You were submitted by lames not even that long ago, it was like a week ago."