Hosts USA handed tough 2016 Copa America group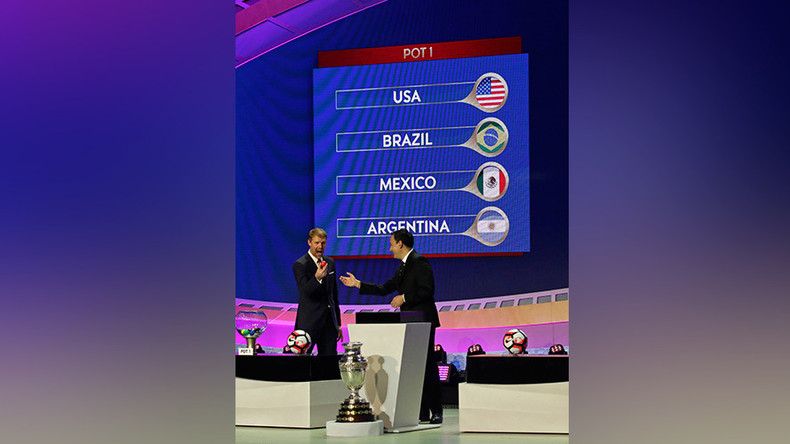 United States, host of this summer's Copa America, have been handed a perilous group in the draw, while 2015 finalists Chile and Argentina have been paired together.
The iconic tournament begins in June, with a Centenario version to take place to celebrate the 100-year anniversary of the competition.
Sunday night's draw in New York landed the US in the toughest of the four pools, with Group A also featuring Colombia, Costa Rica and Paraguay.
Colombia will pose a serious test to Jurgen Klinsmann's men, with Jose Pekerman's team loaded with gifted attacking players including Real Madrid star James Rodriguez.
Costa Rica showed they are no soft touch at the World Cup in the summer of 2014 by making the quarter-finals, while Paraguay has a notable team spirit.
Despite America facing daunting opposition, Klinsmann remained confident of progression.
"It's good to know the teams, and we can put a scouting plan together, get our homework done, and prepare the guys," the German said after the draw. "It's just exciting. We played Colombia one and a half years ago in London and we had them right on the edge. We gave an easy goal away at the end, but it was an even game. It's going to be good."
"I think it's hugely exciting," said the German legend now coaching the US team. "Now finally we have the groups, and people can become aware of what's coming. It's an avalanche; it's huge. It's absolutely big – and it's really going to get all the soccer people going."
Brazil is the name of note in Group B, with the Selecao set to face Ecuador, Haiti and Peru.
Dunga is in his second tenure as the samba nation's head coach, with the retired midfielder having a sizeable task on his hands to return the famous nation to former glories after poor performances over the last 12 months.
Ecuador, who has won all four of their World Cup qualifiers so far, will pose the greatest threat, while Peru and Haiti are the underdogs.
In Group C, Uruguay and Mexico will be the overarching favorites to make the knockout stage, with the former boasting attacking stars such as Luis Suarez and Edinson Cavani.
Venezuela looks like a team in transition after losing all four World Cup qualifiers, while Jamaica is something of an unpredictable entity.
Finally, the reigning champions Chile face the team they beat in last year's final, Argentina, in Group D.
La Roja claimed their first-ever Copa America success on home soil in July, but have since parted company with influential coach Jorge Sampaoli. Juan Antonio Pizzi has replaced him.
Argentina will have glory in their sights after defeats in both the World Cup and Copa America finals in the last two years. Captain Lionel Messi will be the Albiceleste's talisman as always.
The competition starts on June 3, with games to be played in ten venues. The final takes place at the MetLife Stadium in East Rutherford on June 26.