NBA pays tribute to Kobe Bryant at All-Star game
Published time: 16 Feb, 2016 00:06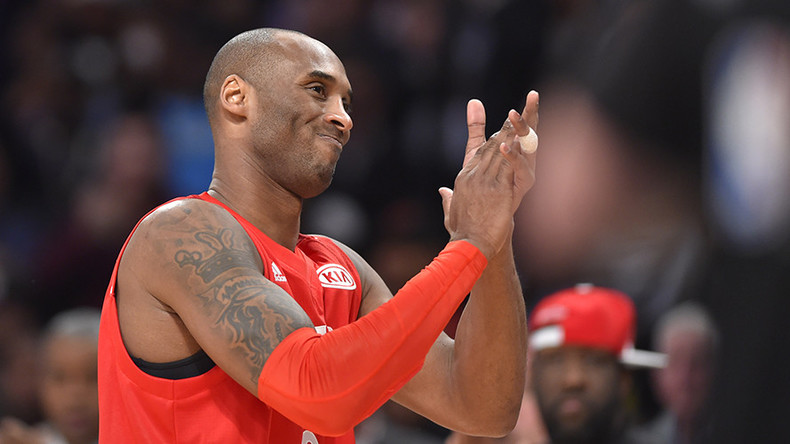 While Kobe Bryant's final season with the Los Angeles Lakers has proved the time is right to retire, the NBA All-Star Weekend gave fans and players the perfect opportunity to pay homage to the great man's career.
The five-time NBA champion was given a fitting send-off, with Lakers legend Magic Johnson speaking about Bryant's achievements before introducing a tribute video featuring many of his highlight moments.
Current stars LeBron James, Kevin Durant and Andre Drummond were amongst those to praise Bryant's impact on the game.
When the video ended, the spotlight fell on Johnson once again. He said: "There will never be another Kobe Bryant. Can all of us get on our feet and let him hear it one more time? Kobe Bryant!"
As the crowd stood and cheered – chanting "Ko-be! Ko-be! Ko-be!" – Bryant took the microphone from Johnson.
He said: "Guys… I just want to thank you for all your support for all these years."
The 37-year-old admitted he'd been lucky to play the game he loves for so long and said he was thrilled to take part in his 18th All-Star game.
"Thank you so much," Bryant said. "And now I've got to go get loose."
The Western Conference All-Stars beat the Eastern Conference 196-173, with the game featuring many memorable moments, including a Bryant dribble against James on the right wing where James slapped both hands on the court as if a big one-on-one battle was about to happen.
"It was just bittersweet being out on the floor with him, knowing the matches between us two are coming to an end soon," James said. "Man, I'm happy that I've been along for a small piece of the ride of his journey."
Bryant ended the game with 10 points and left the court a minute into the final quarter to a rousing ovation.
"It was fun. I had a blast playing with those guys, laughing and joking with them on the bench," Bryant said. "I had a great time. I had a great, great time."
Only Kareem Abdul-Jabbar has appeared in more All-Star games (19), while his 290 career points are just one behind James' total.
Michael Jordan honored Bryant with 30 pairs of custom Jordan sneakers, all in Bryant's size 14, and said he had brought a lot of joy to the NBA.
"I think the fans and the whole city have paid him a tribute, and he deserves it," said Jordan. "He's been a big part to the game of basketball, and now his big task is what he's going to do next."
"I think he's got some plans, and I look forward to seeing where his life goes from this point forward; and him and his wife and the kids, they're going to be fine."
Bryant's daughters sat behind the bench, while he also found time to catch up with NBA legends Bill Russell and Oscar Robertson during the game.
Golden State Warriors' Steph Curry is one of a new generation of stars who have been inspired by Bryant.
While TNT continued to focus on Bryant, Curry hit a half-court shot which was missed on live TV – but he still found time to pay his own respects to the NBA legend.
"The entire night was very memorable, for sure, with his entrance during the starting line-ups and the tribute video, Magic Johnson giving a speech about Kobe and his legacy to some highlight moments during the game where he had some nice plays," said Curry.
"Kobe means something to everybody individually as a basketball fan and including us, as players. So you kind of have a lot of different thoughts about what he means to the game and how he inspired you and myself growing up. I'll remember that for sure."