Messi, Suarez score 2-man penalty as Barcelona win in style (VIDEO)
Published time: 15 Feb, 2016 12:07
Edited time: 6 Jul, 2018 15:31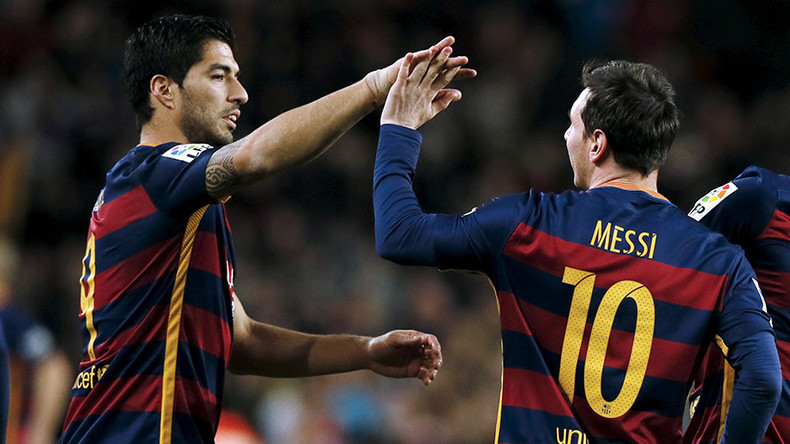 Barcelona completed a 6-1 demolition of Celta Vigo on Sunday night with an extraordinary penalty from Ballon D'Or winner Lionel Messi.
The Argentinian superstar decided to roll the ball forward for his teammate Luis Suarez instead of going for goal himself.
Lionel Messi's penalty masterstroke
Suarez, having already scored twice in the game, completed his hat-trick thanks to Messi's selfless act. After the game Neymar told the press that they had practiced this move in training and it was not a surprise for him or Suarez.
The pass-penalty is rarely attempted - due to the ridicule faced if the move fails or the danger of the move being seen as disrespectful to the opponent. The most famous attempt of the pass-penalty came in 1982 when Johan Cruyff passed to his Ajax teammate Jesper Olsen from the spot. Olsen passed the ball back to Cruyff to set him up to score.
However, that 1982 effort wasn't the first recorded two-man penalty - that was in 1957 by Rik Coppens.
After the game, Neymar spoke about the penalty.
"It was for me, we had practiced it in training!" he said with a smile. "Leo [Messi] and myself had practiced, but Luis was closer and he scored it.
"Our friendship is the most important thing. It doesn't matter who scores the goals, just that we win the games."
The Celta manager had little reason to complain about the penalty given the way his team folded against Barcelona, with the game lost long before the penalty.
He was magnanimous in defeat, shooting down any suggestions that the play was a sign of disrespect.
Celta coach Berizzo in press conference on Messi to Suarez penalty "It was just taken a different way, nothing else."

— Dermot Corrigan (@dermotmcorrigan) February 14, 2016
The most famous miss from a two-man penalty came from a botched attempt by Arsenal's Robert Pires and Thierry Henry against Manchester City.
Barcelona's lead at the top of the Spanish La Liga table is three points with a game in hand. By next Saturday evening, Barcelona would have played twice before either Atletico Madrid or Real Madrid play their games - and by then the lead could be nine points.
With Messi, Suarez and Neymar in tremendous form, the title chase would surely be over if the Madrid teams fail to win on the weekend.