2016 NFL Pro-Bowl: Seahawks duo drives Team Irvin to 49-27 win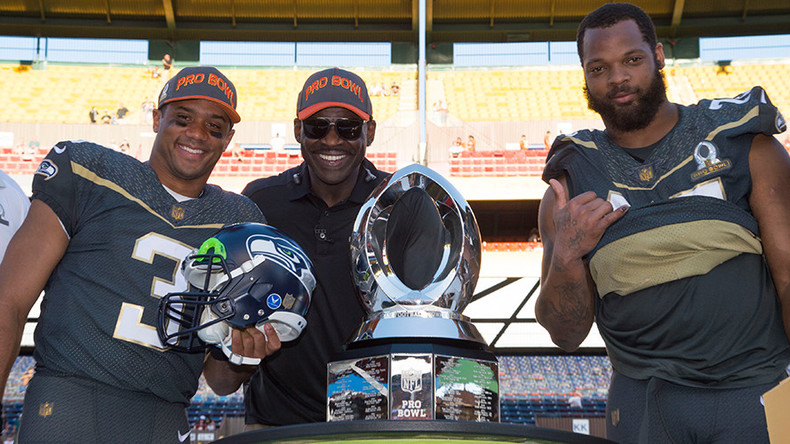 The 2016 NFL Pro Bowl provided its usual high-scoring affair as Team Irvin defeated Team Rice 49-27 in Hawaii on Sunday.
Seattle Seahawks' quarterback Russell Wilson set Michael Irvin's team on its way, with Wilson throwing three first-half touchdowns on his way to picking up the game's offensive Most Valuable Player (MVP) award.
Wilson's teammate Michael Bennett collected the defensive MVP, after producing the game's only sack and deflecting a pass.
"To see us Seahawks out there is a real special thing," said Wilson. "It's a testament to our hard work, and to see two Seahawks out there as MVPs is really cool."
Irvin and fellow hall-of-famer Jerry Rice drafted and captained the two teams which were coached by Green Bay Packers' assistant head coach Winston Moss and Kansas City Chiefs' head coach Andy Reid.
The build up to the game saw a record 47 players decline to take part in the Pro Bowl, either due to personal reasons, injury or because their teams are in next weekend's Super Bowl.
Wilson says he was honored to have been selected. "Any time you have the opportunity to play the great game of football, you take advantage of the opportunity," he said.
Wilson finished the game with eight out of 12 passes completed for 164 yards. He threw a touchdown to Atlanta Falcons teammates Julio Jones and Devonta Freeman in the first quarter and Los Angeles Rams' running back Todd Gurley in the second.
Minnesota's Teddy Bridgewater and Tampa Bay's Jameis Winston each added two touchdown passes for Team Irvin, while Jacksonville's Allen Robinson, Tennessee's Delanie Walker, Philadelphia's Darren Sproles and Houston's DeAndre Hopkins had scoring receptions.
Kansas City tight end Travis Kelce caught two scoring passes for Team Rice. Miami's Jarvis Landry also had a touchdown catch, and Tampa Bay's Doug Martin ran for a score.
This was the 35th time since 1980 the All-Star game had been played at the Aloha Stadium, with a sell-out crowd of 50,000 on hand to watch proceedings.
While established names like Tom Brady and Peyton Manning were absent, rising stars like Wilson, Odell Beckham Jr. and Julio Jones gave the event a much-needed shot in the arm.
Historically the All-Star game has been seen as the Super Bowl's poor relation, but this year's game was played with much higher intensity than is usually the case.
Wilson, who led the Seahawks to the Divisional game in the play-offs where they were narrowly defeated by Carolina Panthers, says the event is still an important one in the NFL calendar.
"Playing in the Pro Bowl is a special thing because to be able to see all the amazing players across the league, who are the best players in the world, and to be able to play on one field together is a really, really cool thing," he said.
You can share this story on social media: