NHL All-Star Game preview: 3-on-3 gives fresh look to old classic
The All-Star game might lag behind some of the NHL's other major events, but this year's offering in Nashville, Tennessee may yet deliver a format worth watching.
Despite the late withdrawal of the Washington Capitals' Russian star Alex Ovechkin, there's still enough talent on show to make the two-day event a weekend to remember.
READ MORE: Ovechkin out of NHL All-Star game, replaced by Kuznetsov
Saturday's NHL Skills Competition is always entertaining, while the creation of a new four-team 3-on-3 tournament is an exciting new innovation, with the winning team splitting prize money.
With a $1 million prize to be split among the winners, there's certainly an incentive for the players to play harder than might normally be the case.
While Ovechkin would have been a big draw in the Skills Competition, the likes of Patrick Kane, Tyler Seguin and Evgeni Malkin are sure to bring something special to the event, while P.K. Subban will be one to keep an eye on given his sense of style and fun.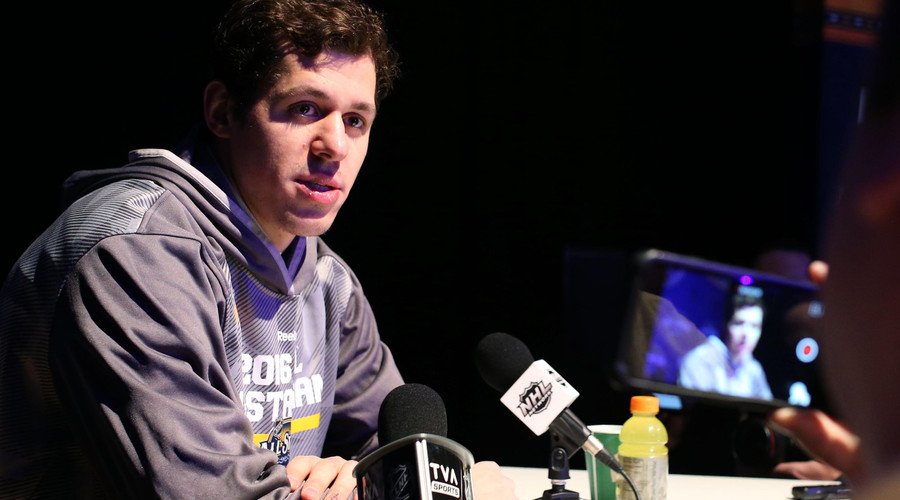 Jaromir Jagr's inclusion in the All-Star game was universally popular with the fans, if not so much with Jagr himself.
The 43-year-old didn't really want to play in the 3-on-3 format, but he has decided to honor the fans' choice and give them the opportunity to celebrate his brilliant career.
Perhaps the biggest story surrounding the All-Star game was John Scott's selection by fans as the Pacific captain.
The outcry that followed when the Arizona Coyotes traded him to the Montreal Canadiens ‒ who then promptly sent him to the AHL, making him ineligible to play in the game ‒ was sizeable. The NHL eventually came to its senses and said Scott could still take part.
Scott's heartfelt story on The Players' Tribune about his selection entitled 'A guy like me' demonstrates a depth of personality and a warmth not usually associated with hockey's enforcers.
"While I don't deserve to be an All-Star, I also don't think I deserve to be treated like I've been by the league throughout this saga," he wrote.
"I'm an NHL player - and, whatever my set of skills may be, that I'm an NHL player is no accident. I genuinely believe that when I'm on the ice, or even just the bench, I make my teammates feel safe to do what they do best," he added.
With 11 career points, Scott might find 3-on-3 hockey a little challenging, but the event is better for his inclusion.
All-Star Game 2016 rosters
Atlantic
Forwards - Patrice Bergeron, Boston; c-Jaromir Jagr, Florida; Leo Komarov, Toronto; Dylan Larkin, Detroit; Ryan O'Reilly, Buffalo; Steven Stamkos, Tampa Bay.
Defensemen - Aaron Ekblad, Florida; Erik Karlsson, Ottawa; P.K. Subban, Montreal.
Goaltenders - Ben Bishop, Tampa Bay; Roberto Luongo, Florida.
Metropolitan
Forwards - Nicklas Backstrom, Washington; Claude Giroux, Philadelphia; r-Evgeny Kuznetsov, Washington; Evgeni Malkin, Pittsburgh; cx-Alex Ovechkin, Washington; Brandon Saad, Columbus; c-John Tavares, N.Y. Islanders.
Defensemen - Justin Faulk, Carolina; Kris Letang, Pittsburgh; Ryan McDonagh, N.Y. Rangers.
Goaltenders - Braden Holtby, Washington; Cory Schneider, New Jersey.
Central
Forwards - Jamie Benn, Dallas; Matt Duchene, Colorado; c-Patrick Kane, Chicago; r-James Neal, Nashville; Tyler Seguin, Dallas; Vladimir Tarasenko, St. Louis; x-Jonathan Toews, Chicago.
Defensemen - Dustin Byfuglien, Winnipeg; Roman Josi, Nashville; Shea Weber, Nashville.
Goaltenders - Devan Dubnyk, Minnesota; Pekka Rinne, Nashville.
Pacific
Forwards - Johnny Gaudreau, Florida; Taylor Hall, Edmonton; Joe Pavelski, San Jose; Corey Perry, San Jose; c-John Scott, Arizona; Daniel Sedin, Vancouver.
Defensemen - Brent Burns, San Jose; Drew Doughty, Los Angeles; Mark Giordano, Calgary.
Goaltenders - John Gibson, San Jose; Jonathan Quick, Los Angeles.
You can share this story on social media: