Most valuable NBA teams in 2015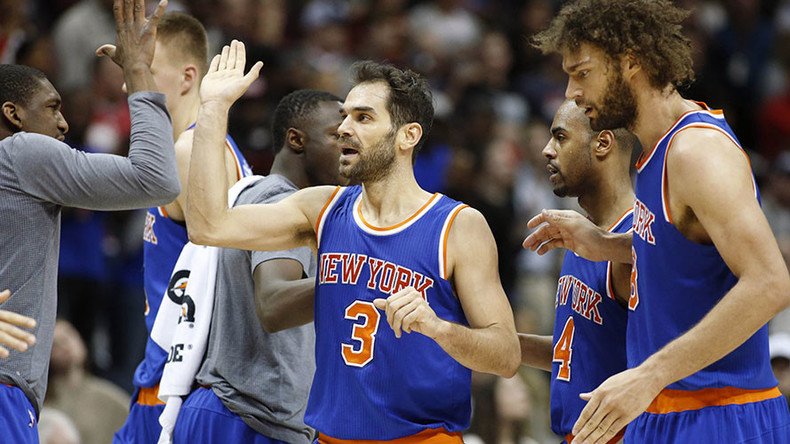 The New York Knicks topped the most valuable NBA teams rankings for 2015, knocking off the Los Angeles Lakers from the summit.
Valuations published by Forbes this week give the Knicks a value of $3 billion, an increase of 20 percent from last year.
Los Angeles Lakers were second at $2.7 billion, while Chicago Bulls completed the top three with $2.3 billion.
The Knicks' television deal, along with the newly-refurbished Madison Square Garden (MSG) and the highest suite prices in the NBA were the main contributory factors to the Knicks taking over the top spot from the Lakers.
The club, along with the NHL's Rangers, MSG and the MSG Network were bought in 1994 for $1.1 billion by the Madison Square Garden Company, and the new valuation represents an excellent return on that initial investment.
Boston Celtics are fourth in the list at $2.1 billion, with Los Angeles Clippers ranked fifth at $2 billion.
Forbes said the league's $24 billion, nine-year media deal with ESPN/ABC and Turner is major reason for the continued rise in value of NBA teams, with the average across the league now set at $1.25 billion - up 13 percent from last year.
The Golden State Warriors are the fastest growing club in terms of value, mirroring their rapid rise on the court. Joe Lacob and Peter Guber bought the Warriors for $450 million in July 2010, but they are now ranked sixth at $1.9 billion.
READ MORE: Football's oligarchs: Real Madrid top money league, Man Utd may overtake next year
Other teams showing impressive growth include the Dallas Mavericks and Charlotte Hornets.
Mark Cuban bought the Mavericks for $285 million in 2000 and they are now valued at $1.4 billion, while Michael Jordan's investment in the Hornets has also paid dividends.
In 2010, the NBA legend purchased 80 percent of the team for $275 million. He currently owns 93 percent of the Hornets, now valued by Forbes at $750 million.
The New Orleans Pelicans are ranked as the least valuable team at $650 million. The league sold the Pelicans to Tom Benson in 2012 for $338 million.
The 88-year-old, who also owns the NFL's Saints, is currently embroiled in a bitter legal battle with his family over changes to his will, which would have passed ownership of the NBA and NFL franchises to his granddaughter, Rita Benson LeBlanc.
Benson subsequently changed his mind, with his third wife Gayle now in line to take over, but Rita, along with her mother Renee and brother Ryan, have filed a lawsuit questioning Benson's mental capacity.
NBA's Most Valuable Teams - Top 10
1. New York Knicks - $3 billion
2. Los Angeles Lakers - $2.7 billion
3. Chicago Bulls - $2.3 billion
4. Boston Celtics - $2.1 billion
5. Los Angeles Clippers - $2 billion
6. Golden State Warriors - $1.9 billion
7. Brooklyn Nets - $1.7 billion
8. Houston Rockets - $1.5 billion
9. Dallas Mavericks - $1.4 billion
10. Miami Heat $1.3 billion
You can share this story on social media: