'I'll dust him inside 1 minute': McGregor taunts dos Anjos, targets quick win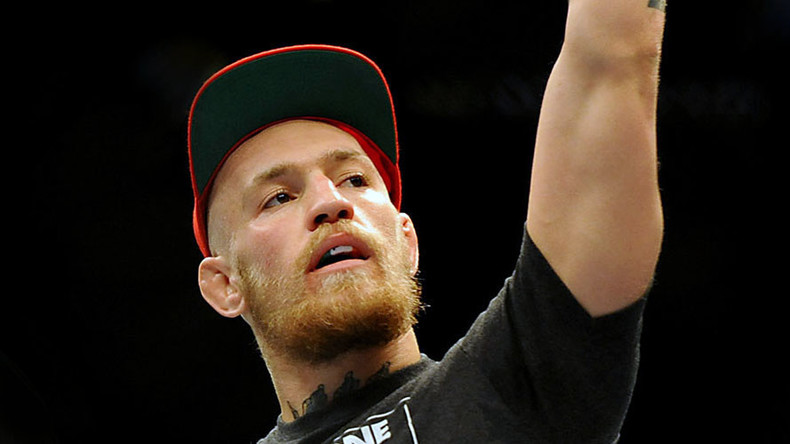 The build-up to UFC 197 began in earnest this week with two intense face-offs at the pre-fight press conference.
Featherweight champ Conor McGregor met lightweight champion Rafael dos Anjos ahead of their March bout for the 155-pound belt, while Ronda Rousey's conqueror Holly Holm eyed bantamweight challenger Miesha Tate for the first time.
McGregor spent much of the event taunting dos Anjos: "I chose this fight because I came into this promotion as a two-weight world champion," he said.
"I had always wanted to replicate that. That was the goal, to continue to create history. This man across me has a title.
"He has nothing but that. He is a 'free TV' fighter. He has nothing else to offer me, except that gold belt.
"I KO'd the country of Brazil's true champion. Seeing how Aldo handles himself, how his team handles himself - they never learned the language of the oppressor. They never came to America. He trusted his people, unlike this guy standing next to me."
McGregor, who demolished Jose Aldo in just 13 seconds at UFC194, predicted another quick stoppage against dos Anjos.
"I will dust Rafael inside one minute - he is a slower, sloppier version of Aldo," said McGregor. "He's like a bum version of Aldo. In absolutely everything, I believe inside one minute, I will dust him."
With Rousey absent from the co-main event for the first time, Holm and Tate will get their moment in the spotlight at UFC 197.
READ MORE: UFC 197: Conor McGregor & Holly Holm to fight for titles in mouthwatering March card
Holm had been open to the idea of fighting Rousey again, but acknowledged the challenge presented by Tate.
"I was open to a rematch, I just wanted whatever opportunity that was going to come," she said.
"This is more of a challenging way to go, there's a lot of pressure behind it and a lot of anticipation after the last fight. Who wants to be a one-hit wonder?
"People say I've made it to the top but that's one fight. Every fight is one to get better and do well at.
"If the rematch had come, that's what I'd have focused on. Now it's Miesha, that's what I'm going to focus on and the whole thought of the rematch isn't on my mind."
UFC 197 takes place on March 5 at the MGM Grand Garden Arena in Las Vegas.

The current card for the show is as follows:
Rafael dos Anjos vs. Conor McGregor
Holly Holm vs. Miesha Tate
Erick Silva vs. Nordine Taleb
Corey Anderson vs. Tom Lawlor
Darren Elkins vs. Chas Skelly
Diego Sanchez vs. Jim Miller
You can share this story on social media: