Valcke fired as FIFA desperate for reform ahead of Feb elections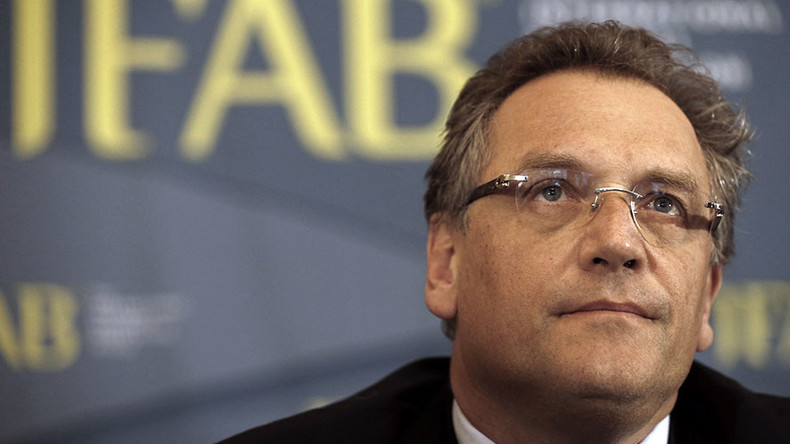 FIFA has sacked suspended Secretary General Jerome Valcke, as football's governing body looks to clean up its act ahead of crucial presidential elections next month.
FIFA had a torrid 2015, with a seemingly never-ending corruption scandal resulting in more and more officials being accused of wrongdoing and several subsequently admitting their guilt.
Valcke is the latest high-profile figure to be removed from FIFA, with the Frenchman now facing a nine-year ban from football.
The 55-year-old is being investigated by a FIFA ethics committee over a number of alleged offences that include involvement in the black market sale of World Cup tickets.
German judge Hans-Joachim Eckert is set to make the final decision on Valcke's punishment, with the ethics committee recommending a nine-year ban and a $97,000 fine.
Valcke was one of the closest allies of shamed former FIFA President Sepp Blatter, with Blatter choosing to rehire Valcke eight months after he was sacked from his position as head of marketing in 2006. That dismissal had come after Valcke was found by a New York court to have lied during FIFA's botched sponsorship negotiations with Mastercard and Visa.
More recently, Valcke was suspended in September 2015 over allegations of involvement in a World Cup tickets scam, but the FIFA emergency committee has now opted to remove him from the organization completely, as an official statement reveals.
"The employment relationship between FIFA and Jerome Valcke has been terminated … The provisional suspension … extended on 6 January 2016 continues to be valid," it states.
"The duties of the Secretary General will continue to be assumed by the Acting Secretary General, Dr Markus Kattner."
Blatter himself was finally removed from FIFA in December 2015 along with UEFA equivalent and potential successor Michel Platini, with the pair banned from football for eight years.
READ MORE: Blatter on ban: 'If US got World Cup 2022, I wouldn't be sitting here'
FIFA's reputation has been torn to shreds thanks to the revelations of the past year, with sponsors moving to distance themselves from the organization.
As such, it is clear that FIFA is trying to restore some credibility ahead of the Extraordinary Congress in Zurich on February 26, when a new president will be chosen.
Five candidates will stand for the position, with current Vice-President Prince Ali bin Al Hussein of Jordan nominated again after losing the 2015 election to Blatter.
The other potentials are Salman Bin Ibrahim Al-Khalifa of Bahrain, France's Jerome Champagne, South Africa's Tokyo Sexwale and current UEFA General Secretary Gianni Infantino.
The Confederation of African Football is being tipped to vote for Sexwale, who has no existing ties to the game and has promised major reforms if elected.
Sheikh Salman is likely to be the candidate of choice for the Asian Football Confederation and may well win votes in Europe.
Infantino will be keen to move out of Platini's shadow and will surely appeal to the likes of CONMEBOL and CONCACAF for votes, along with European nations.
Al Hussein was thought to have the support of key European nations, but with his own confederation opting for another candidate and European support likely to be tilted towards Infantino, he will have a difficult time to garner the votes needed to succeed. Champagne is an outside candidate and would be a shock choice.
Next month's election is surely the most important in FIFA's history, with the new president having the sizeable task of restoring trust in the governing body.
You can share this story on social media: