Holm to get fight wish, Rousey set to pose in body paint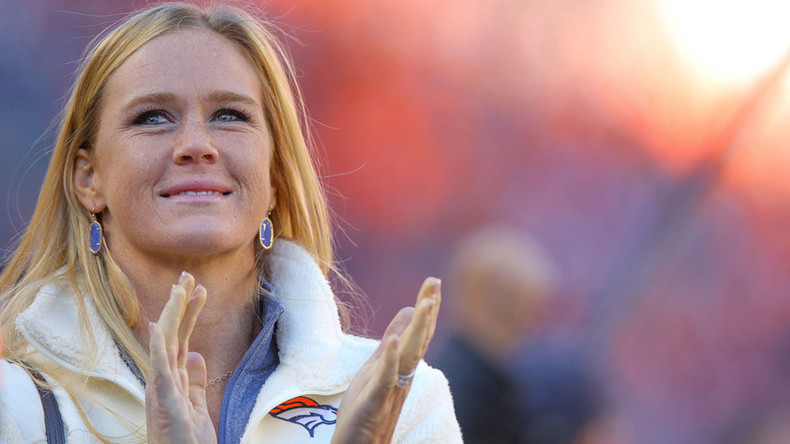 Holly Holm's wish to defend her UFC bantamweight title before a possible rematch against Ronda Rousey has been granted.
UFC president Dana White has confirmed that Holm (10-0) will fight again before a possible rematch against Rousey (12-1). However, White did not announce an opponent or date.
Holm's stunning knockout victory against Rousey in November sent shockwaves around the world, resulting in White quickly seizing on the possibility of a rematch immediately after the bout.
The announcement came as a surprise, with Holm vs. Rousey II potentially the biggest money fight the UFC could make, but with Holm insisting at UFC 194 she didn't want to be out of action for eight months the promotion has bowed to her wishes.
ESPN's Brett Okamoto says fighting before a rematch makes a lot of sense for Holm. "Waiting until Rousey fights again would mean Holm sitting out for at least the first half of 2016," he said.
"Coming from her background in boxing and the fact she's 34-years-old, I think she'll want to get in the cage as champion, collect another paycheck and stay active."
Holm's most likely opponent is Miesha Tate (17-5), who is on a four-fight winning streak and was promised a title shot against Rousey last summer, before the UFC suddenly announced the Rousey v Holm fight.
The UFC has a pay-per-view date on March 5, which would be a perfect fit for both Holm and Tate.
The bout would present a different challenge for Holm, with Tate an excellent grappler in contrast to Rousey's heavy reliance on a submission style of fighting.
Whatever the result, the UFC would still have another hugely marketable fight on their hands afterwards, with Tate's previous two defeats to the former champion creating a genuine rivalry between the pair, while a Holm victory would boost her profile even further.
While White's initial reaction after Holm ripped the title from Rousey was to float the idea of a rematch at UFC 200, letting Holm defend against Tate makes perfect sense for the fighters and the promotion.
Rousey's upcoming appearance as host of Saturday Night Live will help to keep the UFC in the limelight, allowing the promotion to keep the trio of fighters firmly in the spotlight. She's also set to feature again in February swimsuit edition of Sports Illustrated, posing with just body paint.
Photographer MJ Day also posted a behind the scenes photo from the shoot earlier this week on Instagram:
You can share this story on social media: