Newton drives Panthers to 14-0 despite amazing Giants comeback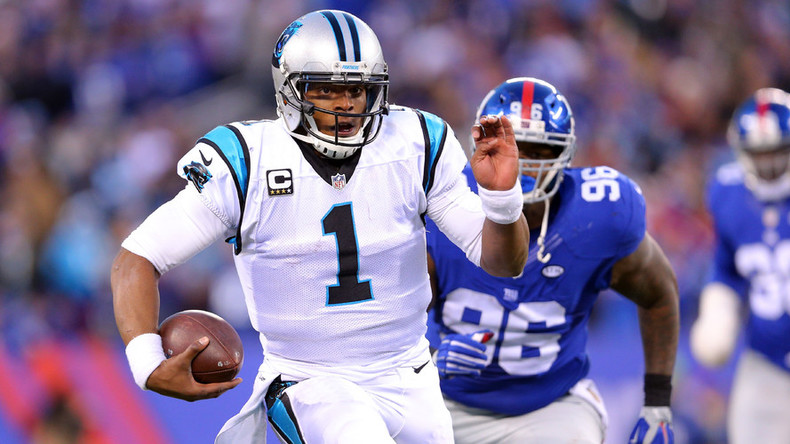 Cam Newton's march towards the NFL's Most Valuable Player award continued as he led undefeated Carolina to victory against the New York Giants – but the Panthers were given an almighty scare along the way.
From 35-7 down the Giants scored four second-half touchdowns to tie the game at 35-35 with 1 minute and 46 seconds left, before Newton held his nerve to take his team 49 yards in seven plays and set up the game-ending field goal to secure a 38-35 victory.
The Panthers quarterback completed 25 of 45 passes for 340 yards and five touchdowns. He also raced for a team-high 100 yards including a 10-yard scramble that led to Graham Gano's winning 43-yard effort.
"It was kind of a weird feeling in that locker room, and I'm still feeling kind of weird, but not enough to not celebrate. We're just trying to find a way to get victories."
It was Carolina's 18th successive regular-season victory which matches the third longest in NFL history. Newton has thrown for 19 touchdowns in the past five games and a career-best 33 so far this season.
Carolina is now 14-0 this season, but coach Ron Rivera has expressed an unwillingness to rest all his players to avoid an injury before the play-offs. With games in Atlanta and at home against Tampa Bay, the Panthers have a good chance of joining the 2007 New England Patriots as the second team ever to finish the regular season 16-0.
All three previous NFL teams to reach 14-0 – Miami in 1972, New England in 2007 and Indianapolis in 2009 – made the Super Bowl, but only the Dolphins won the championship.
"These last two games are division opponents, and we'll be in a hostile environment in Atlanta," Newton added. "And we've got a tricky week with Christmas. We just have to find a way to keep moving ahead and make sure we stay on the side of the pendulum."
The Giants tied it when Odell Beckham Jr, involved in a game-long battle with cornerback Josh Norman, got behind his opponent for a 14-yard touchdown catch with 1.46 to go.
Beckham had lost his cool several times as Norman was getting the best of him in their high-profile matchup. But he got free for a 40-yard catch and run that led to the tying TD.
Play was vicious at times, particularly as the Panthers banged Beckham around. He gave back, too, especially during one sequence when Norman crashed into him and Beckham wrestled Norman to the ground.
A frustrated Beckham was penalized three times for roughness. Norman also drew a flag for hitting Beckham in the helmet. After his tying score, Beckham appeared to taunt Norman before he ran to midfield in celebration.
Beckham said it was all part of the game. "You are a competitor. I'm a competitor. We are always going to go at it. Anybody who has played sports – you are competitive and you are going to go as hard as you can," he said.

NFL officially suspended Odell Beckham Jr. for one game for "multiple violations of safety-related playing rules" on Monday.