Cowboys in Paradise
Published time: 6 Feb, 2012 05:30
Edited time: 13 Feb, 2012 08:50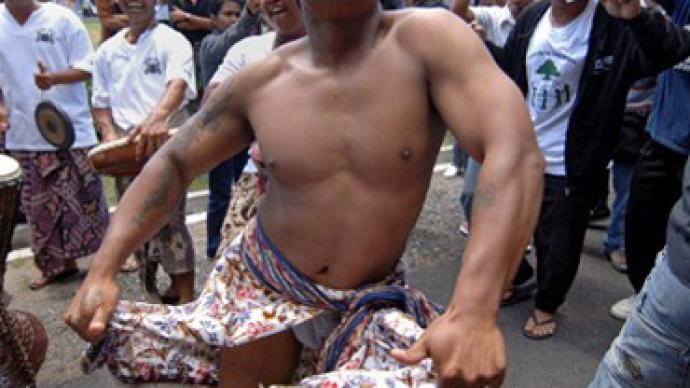 Masters at peddling the paradise-romance concoction, the Kuta Cowboys have made Bali the world's leading destination for female sex tourists. In this one-of-a-kind documentary we reveal the secrets of the trade.
"If my son were to become a cowboy like my husband, I would be proud", says Ne Neyong. Just a stone's throw from the straw hut where she raises her children, Bali's postcard-perfect beaches stretch out for miles. It's here that bronzed beach ambassadors like her husband look for foreign tourists. Selling 'i love you' in six different languages and accepting a drink or a gift in return. "We don't take money for sex", says Rudi, with a michievous smile, "we just love women..".
"Women in the West don't want to be women anymore. They come here searching for something, and they let their inhibitions go". Young, sexy, and full of laughter, the Kuta Cowboys seem to be having the time of their lives. There's a surprising amount of calculation behind the women they choose to seduce – "the older one means more money for me". Yet playing guitar, and surfing on the beach all day, they exude a genuine enthusiasm for meeting people, which women from Europe in particular find hard to resist. "They push the right buttons", says Linnea from Sweden, "and they really like to have sex".
Yet poverty lies behind every chat-up line. Wayan "wanted to be a policeman", but a poor education and an ailing father led him to the beach. Both his father and his wife are proud that he provides for his family – because the aim of every good cowboy is to get a motorbike and a house. "I lived in Germany, Paris, Belgium..", Rudi says of the opportunities women have given him. But the lure of his simple life on the beach is always too strong. Because so long as they're young, there's always another woman, and another sunny day.
"I will be thirty soon, I probably only have two years more I can do this". It's a story Bobby knows all too well. Now pushing 60, he wanders around the beach all day, regaling the younger boys with stories of his former glory. They think of him as a legend, but he admits "people only see the good side of beach boy life". Yet in this sun-soaked paradise, where illiteracy and poverty are rife, boys as young as twelve dream of following in his footsteps. "When I'm eighteen I'll find a foreign woman", says Alex. Surprising, entertaining, and informative.
Directed by Amit Virmani
Produced by Coup Communications