Silent Fish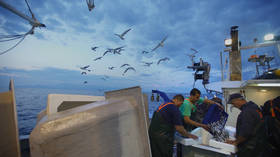 Uncover the threats overfishing poses to the Mediterranean's environmental and cultural richness.
Although the EU promised to end overfishing by 2020, the Mediterranean remains the most overfished sea on the planet. Fishermen are doomed to catch dwindling numbers of fish in the era of climate change. Travelling through the Mediterranean and capturing the fishermen's lives on the shores where human civilization made its first steps thousands of years ago, 'Silent Fish' shows how fishermen are in danger of ending up as another 'extinct species' because of failed EU and national policies.
Due to copyright restrictions, this video can only be viewed on RT's live feed. Time of broadcast is available on RT's schedule page.