Unquiet graves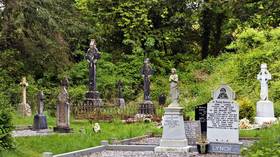 The story of the Glenanne Gang details how members of the RUC and UDR, (a British Army regiment) were centrally involved in the murder of over 120 innocent civilians during the recent conflict in Ireland. It details how members worked hand-in-hand with known sectarian murderers to kill farmers, shopkeepers, publicans, and other civilians in a campaign aimed at terrorizing the most vulnerable in society. Now known as the Glenanne Gang, the group of killers rampaged through counties Tyrone and Armagh and across into the Irish Republic in a campaign that lasted from July 1972 to the end of 1978.
After years of painstaking work by human rights groups the Pat Finucane Centre (PFC) and Dublin-based Justice for the Forgotten (JFF), and the subsequent release of Anne Cadwallader's best-selling book, 'Lethal Allies,' the scale of collusion between the British government and loyalist death squads has now become apparent. The British government knew that collusion was going on and condoned it. The suffering of victims and survivors is today compounded by the refusal of both the Irish and British governments to face up to their responsibilities in pursuing truth and justice for those affected.
Due to copyright restrictions, this video can only be viewed on RT's live feed. Time of broadcast is available on RT's schedule page.