Yushchenko's ex-right-hand man: boss has lost right to be re-elected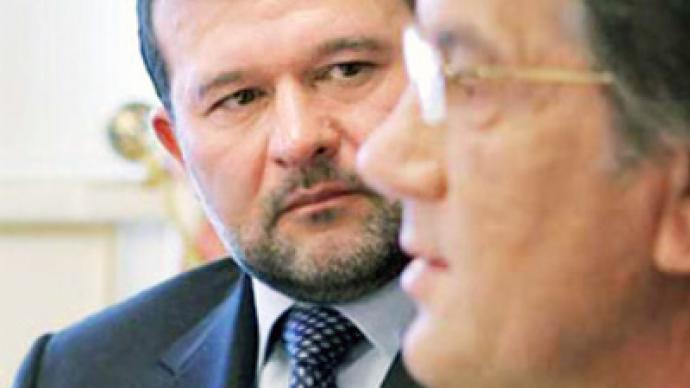 Viktor Yushchenko, the president of Ukraine, has no moral right to seek a second term, according to Viktor Baloga, the ex-chief of the secretariat of the Ukrainian president.
Baloga also said this was the reason behind his recent resignation.
In comments Viktor Baloga posted on the website of the United Center party, which he leads, the former top official specifically addressed Yushchenko.
"Leastways, I'm not your teammate due to this undertaking," wrote Baloga to his former boss.
Baloga explained his disappointment in the work performed by Yushchenko's team. While president of Ukraine, Yushchenko has not managed to fulfill his promises, he has lost the people's confidence, wasted precious time and did nothing to cleanse the power structures, claimed Baloga.
He also accused the president of nepotism.
"You're indifferent to your team corroding the country and your power. When I reported these abuses you pretended to be deaf."
Baloga particularly stressed that the president was unable to reform the malfunctioning government authorities throughout Ukraine.
"We could not have found a partner in any political power or institution," noted Baloga.
"Pre-term Parliamentary election in 2007 gave us a chance to reach a political compromise and the stabilization of power. But we renounced this opportunity by putting as the head of government, and voting for the same candidate, Yulia Timoshenko, even after she lost the first round," Baloga concluded.
Baloga insists that all initiatives of the secretariat dissolved due to the president's apathy.
At the same time, the ex-bureaucrat considers his mission complete.
Accepting Viktor Baloga's resignation, Viktor Yushchenko commented that he saw "no tragedy" in losing Baloga.
Baloga left his post on May 16 without commenting on his resignation at that time.
You can share this story on social media: