Russia demands end to Smirnov rule in Transdniestr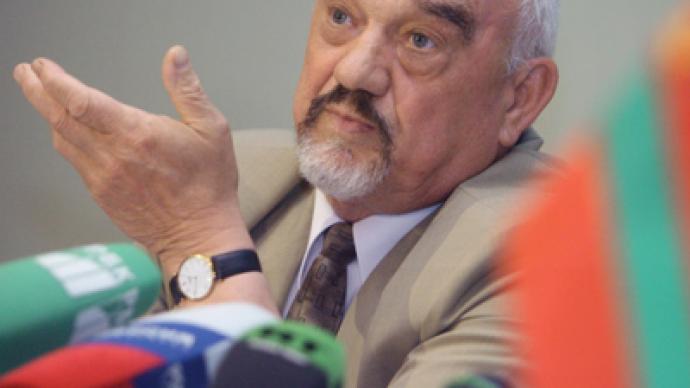 Moscow has reaffirmed its strong opposition to the nomination of Transdniestr's incumbent president, Igor Smirnov, as presidential candidate in the upcoming elections, and his further tenure.
­"I hope you have read the opinions expressed by journalists and political analysts, but also heard the opinions voiced by the Russian leadership. We have made our position extremely clear and it remains in force," Russian Foreign Minister Sergey Lavrov said at a news conference in Chisinau when asked to speak about Russia's position on the upcoming presidential elections in Transdniestr due to be held on December 11.
Earlier, the Kremlin chief of staff, Sergey Naryshkin, said that 70-year-old Smirnov, who has been in power for more than 20 years, is making a mistake in joining the presidential race.
"Unfortunately, in recent years he has built a climate of personal power around him, which resulted in a deep social and economic crisis," Naryshkin stated. "Industry and agriculture are inefficient, many social programs have been frozen. There appeared a huge gap between the poor population and a small group of the people from Smirnov's circle."
Experts believe Igor Smirnov's unwillingness to make any concessions in the lingering territorial dispute between Moldova and the unrecognized state of Transdniestr lie behind Moscow's robust stance. 
On Tuesday, the Russian foreign minister announced that the 5+2  negotiations seeking possible solutions to  the Transdniestrian conflict will resume at the end of November. As well as the two conflicting sides, the talks will involve Russia, Ukraine and the OSCE as mediators, and the US and the European Union as observers.

"A formal decision has been adopted regarding the need to re-start the official talks in this format," Lavrov commented. "The first round of these talks will be held in Vilnius at the end  of this  month."
He added that resuming these negotiations is highly important "for a lasting political solution to  the Transdniestrian problem that would respect  the  sovereignty  and  territorial  integrity  of  Moldova  and guarantee Transdniestr's special status."