Stay within the law, Kremlin ideologist tells youth activists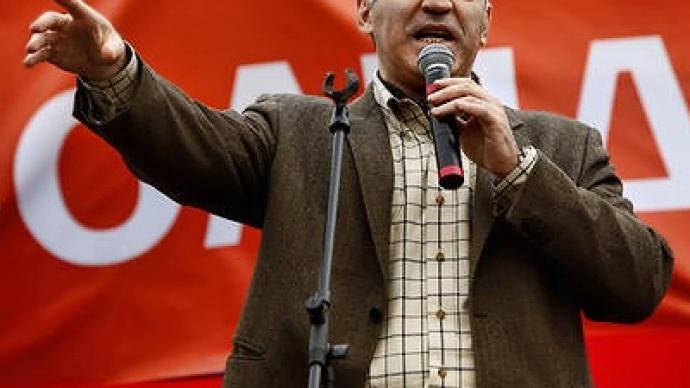 Deputy Presidential Chief of Staff Vladislav Surkov has accused the opposition of corruption and living on "gray" foreign grants.
"The opposition says that corruption is only inherent to power. But both the president and the prime minister say the problem is there and should be tackled, and they take concrete steps for it, while the opposition lives on gray foreign grants, and they do not conceal it. What do you call it if not corruption and permissiveness?" Surkov said during a meeting with activists of Nashi, a pro-Kremlin youth movement for democracy and modernization of Russia, who are now leading a public campaign against corruption.To give an example, the official reminded of a case of the mayor of Bratsk in the Far East:"The mayor of Bratsk, a communist, won the election on promises to fight corruption, and just in a little while was caught on bribery. When law enforcers went to his place he started burning the money."Surkov noted the role of youth activists in bringing such a case to light and said that they all have a common goal, which is fighting society's evils. "We are all working for the same cause, the president, the prime minister, you, and I. People join our community because of their convictions and not through their ranks. I came when there was a storm and not when people started arriving to get their share from the feeder. Each of us does this because we have our ideas of what is good and what is bad and what Russia should be," Vladislav Surkov explained.He also noted the "biased and insincere attitude of liberal press and some individuals" to the activities of Nashi.The only advice in this situation is to abide by the law, Surkov stressed. "I know that there are some issues which cannot be solved without provoking public opinion in an extraordinary way. But please, do keep yourself within the law," he concluded.In 2009, there were complaints from journalist Aleksandr Podrabinek that Nashi activists followed him and waited for him at the entrance to his residence, trying to get into his apartment. He also claimed to get anonymous messages with threats. What he described as a hunt started after he criticized Moscow authorities, in an article, for pressing the owner of a café called Anti-Soviet to change the name. In fact, the authorities responded to a demand by World War II veterans who felt offended by the name. In his article, Podrabinek called their complaint "mean and stupid", an attitude which outraged Nashi. They staged a number of rallies outside his home demanding public apologies to the veterans. Surkov's warning comes ahead of a mass anti-corruption rally called White Aprons, due to take place in Moscow on April 16. Around 50,000 activists are expected to take part. Each of them filmed a question to an individual or an organization they suspect of dubious operations. During the rally the activists will show some of the clips and also present a map of Russia where all addressees of allegedly corrupt officials, are marked.
You can share this story on social media: