Russia remains upbeat as US debate on New START gains momentum
Published time: 18 Dec, 2010 15:04
Edited time: 18 Dec, 2010 18:15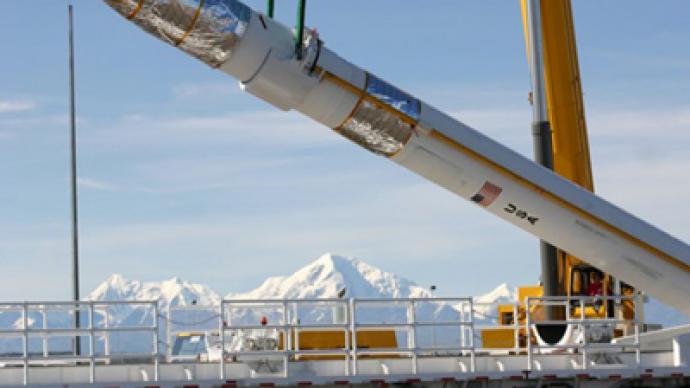 Moscow remains upbeat that US lawmakers will ratify the new strategic arms reductions treaty (START) before the end of 2010, and before a Republican-majority Senate is sworn in.
With US Democrats working overtime in a lame duck session of Congress to gain ratification of New START, Russia is keenly watching the deliberations.
US Senate Democratic leader Harry Reid on Friday urged the Senate to ratify New START before this session of Congress comes to a close.
"We've done some very, very important things during this Congress, but there is nothing, nothing more important than the START treaty, because it has ramifications far greater than our own country,"
Reid told his fellow Senate members.
New START is a joint nuclear arms reduction treaty that was signed by Russian President Dmitry Medvedev and US President Barack Obama in Prague on April 8, 2010. It succeeds the START I Treaty of 1991, which expired on December 4, 2009. It is also designed to replace the Strategic Offensive Reductions Treaty (SORT) signed on May 24, 2002.
If ratified, New START will limit the number of deployed strategic nuclear warheads to 1,550, a decrease of about two-thirds from the original START treaty, while reducing the number of nuclear missile launchers by half.
Reid said some lawmakers are asking for up to a week to debate the controversial treaty and he will agree to the request, despite the approaching holiday season.
Meanwhile, Russia's Deputy Foreign Minister Sergey Ryabkov said that exhaustive answers have been provided on the New START Treaty and the United States should decide in favor of its ratification.
"Of course, the issue is important and has an impact on many components of Russian-US relations,"
Ryabkov said in an interview with the Voice of Russia radio station on Thursday.
"We'd like to hope that the efforts taken by the [Obama] administration, US statesmen and political scientists will result in success."
He added that no concrete dates for the ratification can be guaranteed, and that Russia "could only watch the developments."
Russian Foreign Ministry spokesman Alexey Sazonov remained optimistic as the US vote comes down to the wire, saying ratification is still possible.
"It cannot be ruled out that ratification of this document by the United States will happen before the end of the year,"
he said at a news briefing in Moscow on Friday.
The spokesman added that the 160-page treaty is crucial because it will strengthen the nuclear non-proliferation regime and improve relations between Russia and the US, as well as between Russia and NATO.
Although some US Republicans are still grumbling over the treaty, arguing that it does not allow monitoring privileges for either side, this is patently false. Each side will be permitted up to 18 inspections a year on the other's territory, as well as by satellite and other remote methods.
Meanwhile, a hardcore group of US Republicans are nitpicking about a single sentence in the preamble of the New START treaty that mentions the "interrelationship" between US missile defense and the Russian nuclear arsenal.
"We have handed the Russian government the political pressure they have sought for so long to bind our future decisions"
on missile defense, Sen. John McCain (R-Az.) declared.
Sen. John F. Kerry (D-Mass.), chairman of the Foreign Relations Committee, responded that the preamble was not legally binding, and adding that US military officers had testified that the treaty would have no bearing on American missile defense.
In a strongly-worded statement, White House press secretary Robert Gibbs on Wednesday slammed the Republican Senators as hypocrites for "the kind of Washington game-playing that the American people are sick of."
Yet, despite the acerbic partisan rhetoric, the Democrats remain confident they will get the 67 votes they need.
"I believe we will have the votes,"
Kerry told reporters on Friday.
"We're not going to put the vote…We intend to have a vote sometime this year."
Ratification of the treaty requires 67 Senate votes out of 100. The Democrats need to enlist the support of at least nine Republican colleagues to ensure ratification.
Meanwhile, analysts are predicting that Democrats will get enough Senate support since Obama agreed to Republican demands for extending Bush-era tax cuts for the wealthiest Americans. Now he is hopeful that the Republicans will be gracious and return the favor by supporting the New START approval.

Although ratification of New START in April seemed an easy sell to lawmakers in both Russia and the United States, a strong showing by US Republican in November midterm elections threw some unexpected wild cards into the deck.
Keeping good relations

The importance of maintaining tight relations with Russia has become a recurring theme amongst many US think tanks.
Michael E. O'Hanlon, Director of Research and Senior Fellow, Foreign Policy, 21st Century Defense Initiative provided a concise assessment of the ongoing US-Russia partnership in an article published last month by the Brookings Institute entitled, "New START shouldn't be stopped."
"Perhaps one-third of all North Atlantic Treaty Organization supplies for the Afghanistan war…now flow through what is called the northern distribution system (NDS)," O
'Hanlon explained.


"Several routes make up the NDS: Some pass through Russia; others involve former Soviet republics (like Tajikistan and Kyrgyzstan), where Moscow can create major obstacles if it wants. Yet the flow of supplies has dramatically increased in recent years."
And then there is Iran, which some in the West say is attempting to develop a nuclear weapons program under the guise of providing a new civilian energy source. Russia support is also highly critical in helping to address Tehran on this potentially disruptive question.
"Most of all, the US-Russia relationship is now helping apply greater pressure on Iran. Moscow has agreed to far tighter United Nations Security Council sanctions on Iran's high-technology trade, and it recently refused to sell Tehran advanced surface-to-air missiles,"
O'Hanlon concluded.
But Moscow and Washington understand that they are not out of the woods yet over the question of New START.
An easily predictable treaty-killer down the road involves America's ambitious plans to build a missile defense system in Eastern Europe Without Russia's direct participation, Moscow has warned of "a new arms race." Moscow is looking for nothing less than 24/7 involvement in the development, maintenance and operation of the missile defense shield.
That question should be answered next summer by NATO officials, who are warming to the idea of deepening cooperation with Russia.

All things considered, it should be an interesting 2011 for the US-Russian diplomatic front.