"Go Russia!" pro-modernization movement denied registration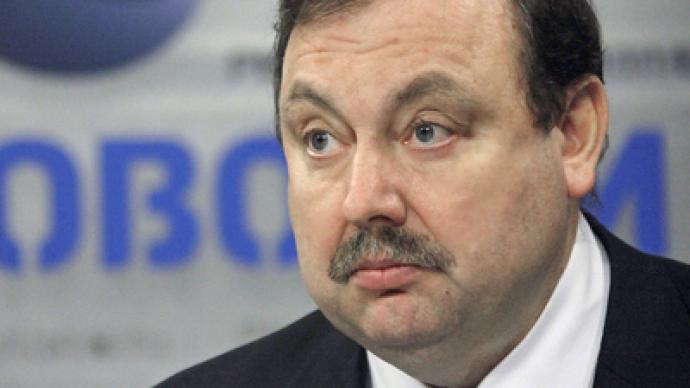 The movement established to support the country's modernization has not been registered by the Justice Ministry because of irregularities in documents.
The ministry officially confirmed on Monday its decision not to register the movement. Justice Minister Aleksandr Konovalov told the founders they could correct mistakes and submit the documents again or appeal the decision in court. State Duma deputy and the leader of the movement, Gennady Gudkov, seems to have chosen the second variant.When he created the movement in September, many noted it was based on "the Fair Russia party's platform." Gudkov, a member of the party, insisted it was rather a broad movement organized to support President Dmitry Medvedev's new course for modernization. The name "Go Russia!" repeats the headline of Medvedev's policy article written in 2009. The chairmen of the movement are well-known test pilot Magomed Tolboev and scientific director of the National Strategy Institute Nikita Krichevsky.  Gudkov then attracted criticism from other parties for "seizing" the president's slogan. Opponents from the rival United Russia party even said the deputy and his colleagues had nothing to do with modernization and described them as "marginal politicians."   The ruling United Russia also established its own movement with the same name. Medvedev sent his greetings only to the party's founding conference held on October 10. United Russia did not register the movement as the move could only allow it to become a juridical entity. Meanwhile, the founders of the first movement appealed to Konovalov when they were denied full registration in early December. The minister sent them a letter on Monday, explaining that provisions of the movement's charter contradict the requirements of the legislation. Additional irregularities were found in the package of documents submitted for registration.    Gudkov and his followers see political reasons behind the ministry's refusal. It is difficult to believe experienced politicians and lawyers could make mistakes in documents submitted for registration, they say. Such registration would be even more difficult for ordinary citizens, who do not have organizational resources, members of "Go Russia!" stress. They are expected to support the president's idea and their right to organize a new movement. Ironically, the modernization slogan still seems to divide political parties rather then unite them for fulfilling common goals.
Sergey Borisov, RT