Russia equips Afghan army with new helicopters
Published time: 4 Aug, 2011 12:47
Edited time: 4 Aug, 2011 17:35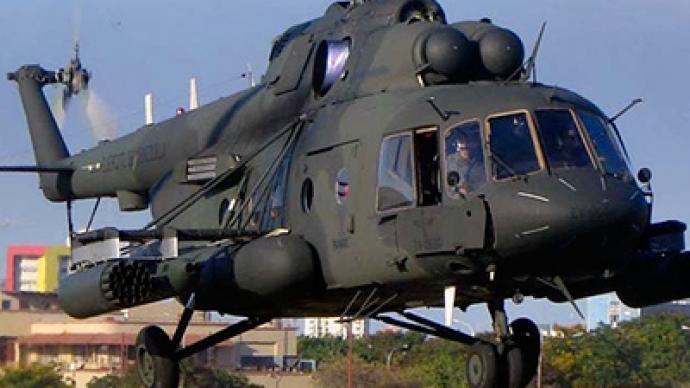 Russia is in the process of completing a contract with the US Defense Department on the shipment of helicopters to Afghanistan.
­Moscow will fully perform a contract on shipping 21 Mi-17V5 military transportation helicopters for the Afghan armed forces in 2011-2012. There are no disagreements with the Pentagon over this matter, Vyacheslav Dzirkaln, a deputy director of the Russian Federal Military-Technological Cooperation Service, told reporters on Thursday.

The contract has been reportedly estimated at $300 million. The deal, signed in May 2011, has become the first major contract directly agreed upon between the Russian service and the US Defense Department. According to Dzirkaln, the contract will be fulfilled by the end of 2012. The first consignment, which may include nine helicopters, will be shipped to Afghanistan this year.  

In August, the enterprise in the central Russian city of Kazan will get the first two sets of foreign equipment that the Pentagon insists should be placed on the helicopters. Eight more sets will be delivered in September. Russia is bound to ship choppers, spare parts and equipment for them.

Moscow and Washington have established a working group to oversee the fulfillment of the deal, and all the bureaucratic procedures have been finalized, Dzirkaln said. He noted that members of the US delegation who visited the plant in July were satisfied with the organization of manufacturing process and the overall technological level.  

New contracts may follow in the future, the official believes.  "Hopefully, our cooperation will not be limited to helicopters," Interfax quoted him as saying.

Meanwhile, Russia has informed the US side of the "unacceptable position" taken by a number of countries that use the Soviet-made helicopters. Moscow has completed certification procedures at aircraft repair plants in Poland, Bulgaria, the Czech Republic and Slovakia. These states manufacture spare parts for Russian Mi-family helicopters.

The production of spare parts for civilian versions of these choppers has also been certified, and Russia will now be able to control the supplies of certified spare parts. Dzirkaln is certain this will make it possible to push "gray" Mi helicopters off of the market.

Until recently, some East European countries and states of the former USSR were involved in the illegal modernization of helicopters produced in the Soviet Union. The use of uncertified spare parts has often led to the problems of exploitation or accidents, Dzirkaln said. He stressed that the US side "understands the problem," and agreed to carry out a technical examination of Soviet-made choppers it currently possesses in Afghanistan.