Putin says he is not addicted to power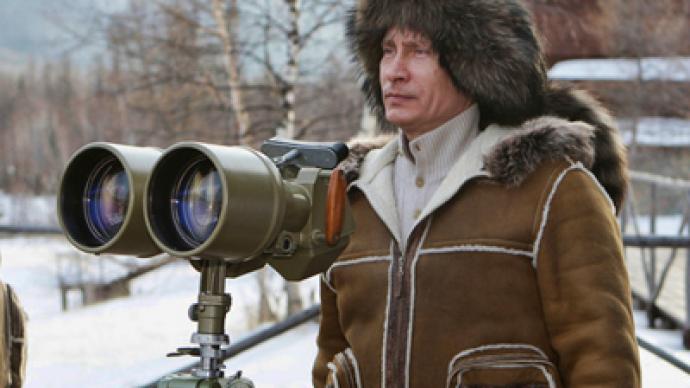 Russian Prime Minister Vladimir Putin has said that he is not obsessed with power, and gets a lot more satisfaction from "concrete actions" and self-fulfillment.
Speaking about his attitude to authority in an interview with "Rossiya" (Russia) and "Moya Planeta" (My Planet) TV-channels, Putin recalled a Soviet-era expression that says that when you have power you can enjoy living to your heart's content. "But to live to your heart's content you do not have to travel a lot, meet people, be engaged in solving problems. You can make the state machinery do it for you and just enjoy your position," he said. "To my mind, it is quite an inferior pleasure. Self-fulfillment that you get from concrete doings brings a lot more satisfaction". As the head of the Russian government, Putin is responsible for resolving serious issues that influence the future of the entire country and its people. He said he takes all the decisions in cold blood, but, at the same time, bearing in mind what effect they would have on the lives of ordinary people."The decisions should be taken not emotionally, but cold-bloodedly. But I cannot do without emotions. This is a natural contradiction," Putin said. He recalled that he comes from an ordinary family, and lived an ordinary life for a long period, except for last ten years – when he was in the country's top jobs: prime minister, then president and now the head of the government again. "I used to live like an ordinary man and I will always keep this connection (with ordinary people)," he said. "I have no doubt that it will be with me in all my life. And every time we are taking any decisions, I am thinking how it will influence an ordinary citizen. I believe that this guideline is the most important and correct," he stated. Answering a question about who that "ordinary person" is for Putin, he spoke about the older generation and his father. The prime minister recalled him coming out onto the stairs to carefully write down the reading of the electricity meter, considering every single kopeck and every kilowatt. "The elder generation was very accurate and scrupulous on this issue," Putin observed. "He always paid the utility bills in time. And that was very important for the family. Do you know what I mean?…That is the real life of an ordinary family and we should never forget about it," he stressed.While the Soviet-era generation was very careful with money, counting every kopeck, Putin admitted that he is not very economical, but is not a spendthrift either."A man should think all the time about how to support his children and about his family wellbeing. Therefore, to my mind, it is irresponsible to drain all the money you have," he said, adding that the same applies to the state, government and common life levels.The world crisis of 2008 has hit the pockets of people as well as seriously affected the state financial system. But now the Russian economy is recovering, Putin assured. "I believe in 2012 we will completely restore the volume of our gross domestic volume – GDP. Then it will be possible to say that we have overcome the crisis," he said. The interview was recorded while Putin was busy on a working visit to the Republic of Khakassia in central Siberia. He said, traveling all the time is not a burden for him. The Russian premier recalled an expression: "a change of work is a rest".
You can share this story on social media: