Russian rocker urges Putin to deal with corruption personally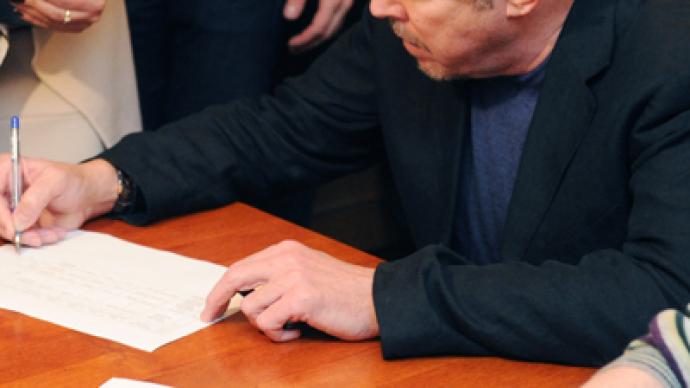 Andrey Makarevich, one of Russia's oldest and most popular rock legends, has sent President Putin a letter asking him to deal personally with the overwhelming corruption in the country or watch it descend into a catastrophe.
Makarevich's open letter was published in Moskovsky Komsomolets, one of Russia's most popular daily newspapers, and was immediately quoted by other mass media. The rock singer writes that due to his job he had traveled extensively around Russia and learned about the disastrous corruption. He claims that the size of kickbacks has risen from 30 per cent five or six years ago to 70 per cent, and even 95 per cent in one case about which Makarevich claims he has reliable information.The musician writes that he expects Putin to tell him to turn to court with his complaints and facts proving the crime, but as the Russian court system is also corrupt there is no other option but to turn to the president, as "any serious changes in our lives are now made only by your decision, your word or your glance."Makarevich also warned that if the dangerous tendency is not changed the country would face a total catastrophe. In an interview with RIA Novosti news agency, Makarevich said that he wrote the letter as it has reached a critical mass. "It has all been gathering for some time, but then the cup overflows," he said. Makarevich never pledged any political allegiance until the latest presidential elections, when he gave full support to an independent candidate, billionaire Mikhail Prokhorov. A month ago Makarevich signed a letter in support of the punk band Pussy Riot, currently on trial in Moscow for an anti-Putin concert in the city's main cathedral. Vladimir Putin's press secretary Dmitry Peskov has said that the president will be duly informed about Makarevich's letter, but refused to suggest if there would be any reaction from his boss. Putin has several times outlined the problem of corruption as one of the nation's main challenges. In a recent interview with foreign mass media he promised to support all grassroots initiatives that would help to tackle the problem but at the same time stressed that it was unacceptable to use slander in political struggle.Later in the day, the President commented on Makarevich's letter, saying that he understood the obvious task of fighting corruption, but stressed that it could not be done by repressive measures only. "You should write another letter addressing the businessmen as such situations are often served up by them," Putin told reporters. He added that corruption was a problem in almost all economies in a transitional period as there is no agreement on many legal and economic questions in such economies.