Constitutional changes possible but not yet necessary - Putin
President Putin has told the leaders of parliamentary parties that direct elections to the Upper Chamber were possible in the future, but stressed the current procedure complied with basic democratic principles.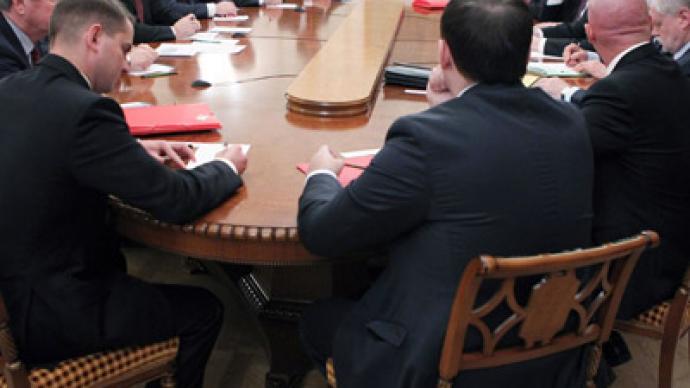 "It is written in the Constitution that the Upper House members represent legislative and executive branches of power in the federation subjects – ant it really is so," Putin told the top MPs. "Therefore, if we want changes we will need to change the basic law. However, I think that at the current level of our country's development, the suggested procedure quite matches the democratic criteria," the Russian President added. The Upper House of the Russian Parliament, the Federation Council, is formed as every independent region in the Russian Federation sends two members to it – one is appointed by the head of the executive and one is elected by the regional legislature. The Upper House deals with the most important issues of the state, such as borders between federation subjects or sending the Russian military to foreign territories. Putin also used the meeting with top State Duma MPs to thank them for the active work in the autumn session and especially for the support of the anti-corruption bills. The President expressed satisfaction that the State Budget received the parliament's approval, even though the discussion process saw some heated debates. The President said that he was aware of the increased political competition as the new much softer rules of political party registration came into force, but added that such a situation was normal and the working parties must simply consider the new rules and put more attention to fighting for the voters' support. Putin suggested that the parliament develops a convenient mechanism to allow MPs to participate in the development of state programs. However, Putin said that the government must still bear the main responsibility for these programs. The initiative could be a reply to recent statements from all opposition parties who sought proportional participation in government. At present, the government in Russia is formed by the parliamentary majority and approved by the president. Putin said that the discussions over the state programs can be too long even in the current government and with over 400 people taking part in the process it can become so long it will simply never end. The President added in this connection the MPs should be more realistic in their demands and maintain a sober look at the state's means and opportunities.
You can share this story on social media: