Opposition demands stronger political competition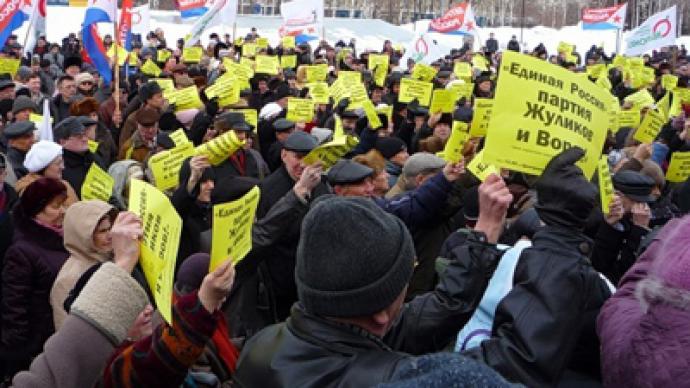 Opposition forces in Russia's republic of Udmurtia in the Volga region have held a rally in support of political competition. They also expressed their disapproval of the government's social policies.
The demonstration took place in the republic's capital Izhevsk. It was jointly organized by left-wing Patriots of Russia, Yabloko and a local movement for civil initiatives.Their leaders criticized reforms in the educational sphere, poor conditions for the development of small business and corruption. They also accused local authorities of violations during regional elections. But it was the ruling United Russia party that they were most discontent with. Opposition forces adopted a resolution calling to launch a nation-wide campaign against United Russia. Activists say they want to challenge "party monopoly" by organizing rallies and marches, as well as by filing complaints to the Justice Ministry and other instances meant to defend the Constitution. They do not set any time limits for their activities as they say the campaign is not confined to the upcoming parliamentary election. Still, one of their goals is indeed providing a serious counterbalance to United Russia during the December election. Yabloko leader Sergey Mitrokhin said that the anti-United Russia opposition is especially strong in Izhevsk as compared to Moscow and the whole of Russia — that is why such a coalition has become possible.
You can share this story on social media: