Moscow ridicules Tbilisi attempt to lecture on human rights
Published time: 18 Jul, 2012 10:22
Edited time: 18 Jul, 2012 14:25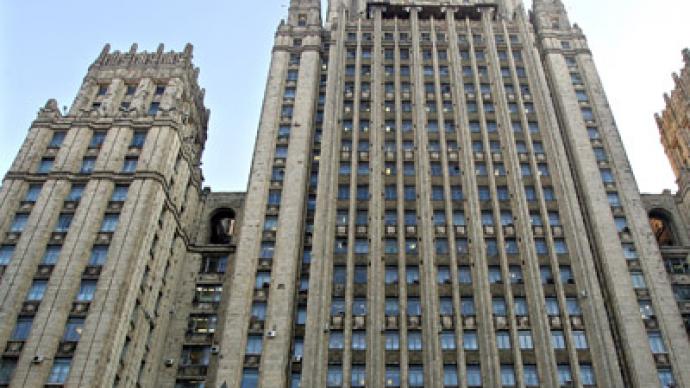 Georgians must solve "grave" problems with human rights protection in their own country before criticizing Russia, the Russian Foreign Ministry has stated.
­The comment followed Tbilisi's comments on the bill granting foreign agent status for politically-active non-profit organizations.
Moscow drew parallels with Washington's attempts to interfere into Russia's sovereign law making process. 
"Suddenly, the Georgian Foreign Ministry decided to throw in its two cents into 'saving democracy in Russia' by making a menacing comment on the NGOs bill adopted by the State Duma," Russian Foreign Ministry  spokesman Alexander Lukashevich said on Wednesday.  

Earlier in the week Tbilisi voiced its concerns about the conditions it would create in Russia for "foreign and international organizations whose work seeks to contribute to the development of civil society and to the protection of human rights."

In response, Moscow suggested that Tbilisi should stop ignoring claims made by international human rights organizations about the situation in Georgia itself.

"The best the Georgian authorities could to promote democracy in the world is to finally start addressing its own serious problems with the observance of democratic freedoms, human rights and rights of national minorities in their country," Lukashevich pointed out.

The UN Human Rights Council, the Council of Europe and other human rights organizations have repeatedly mentioned these problems, he said.

"As for [President Mikhail] Saakashvili's claim for the role as an international mentor on human rights – they are simply ridiculous."

Meanwhile, three people were put into jail for 15 days in western Georgia for disorderly conduct after shouting obscenities about Saakashvili, reports the Vzglyad news portal. Earlier, another person got 15 days for resisting the police after drinking beer next to the President – which, according to local custom is considered an insult.  

Last week, Tbilisi City Court seized satellite dishes purchased by a local opposition TV channel Maestro as part of the ongoing investigation into an alleged vote-buying attempt ahead of the autumn parliamentary vote. The head of the channel called the accusations "absurd" and the prosecutors' actions "illegal."

Billionaire Bidzina Ivanishvili the leader of Georgian Dream opposition coalition, and Saakashvili's main rival, was fined over $90 million. The opposition labeled the court ruling as politically motivated.

Another opposition member, the leader of Free Democrats and former Tbilisi envoy to the UN Irakli Alasania says illegal paramilitary groups have been set up in western Georgia on the order of the President. The aim was to "intimidate" and repress the opposition.

Former Georgian leader, Eduard Shevardnadze, has recently apologized for handing over power to Saakashvili saying it was his biggest sin against Georgia and its people.