"Police acted professionally" - Medvedev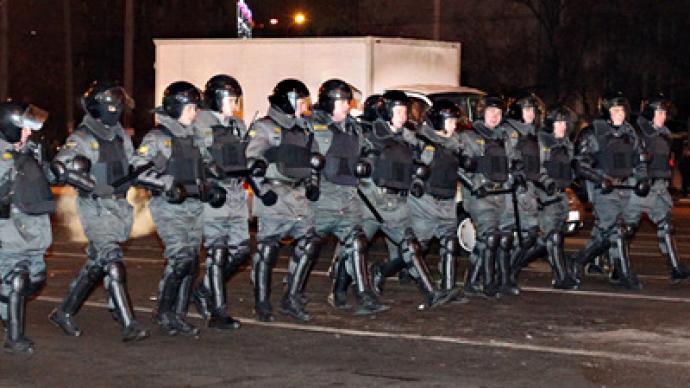 President Dmitry Medvedev has praised police for their professionalism in preventing riots in Moscow on Wednesday.
­"Yesterday, the Moscow police acted professionally. They need some rest," Medvedev wrote in his Twitter account on Thursday night.

A Twitter user complained to Medvedev that, looking on the Internet, one can only see "gloom and horror. So we have such a Tweet," he said. Medvedev agreed that the situation in the streets was calmer than on the Internet. But later he wrote on his account he would "summon the heads of law enforcement agencies and governors today to discuss maintenance of law-and-order." They should work "at their places," he stressed.
Police detained about 1,000 people in different parts of the Russian capital on Wednesday, preventing illegal activities by football fans and nationalist and ethnic groups. Clashes among groups of young people were prevented, press service chief of the Moscow Interior Department, Viktor Biryukov said.

Media reported that several sporadic clashes between crowds of nationalists and people from the North Caucasus took place on Wednesday, in which about 30 people were reportedly injured. On the whole, the situation was under control, Biryukov said. About 3,000 police officers were involved in securing order, with almost half of them policing a space near Kievsky Railway Station.

According to Biryukov, most of those detained were youths from North Caucasus republics. Many of them were armed with offensive weapons. Some of the detained had intended to use the weapons they brought with them, the spokesman said.

After clashes between nationalist groups and police on Saturday, the biggest public disturbances in over a decade, the president said the events were a threat to the stability of the state. He urged police to use any legal methods to prevent violence.

The disturbances flared up after a Spartak Moscow football fan, Egor Sviridov, 28, was killed in a brawl with migrants from the North Caucasus.

On Wednesday, the Russian Congress of Caucasus Peoples said youths from the North Caucasus should not give in to attempts to manipulate them into participating in illegal actions on the streets. "There are people who are interested in the economic, political and social destabilization of Russia," said Sultan Togonidze, who heads the Congress's youth committee.

Moscow Mayor Sergey Sobyanin also urged "hot heads" not to yield to provocations. He stressed that police would suppress any manifestations of violence in streets.

Disturbances and attacks on police, as well as the killing of Sviridov, cannot be justified, first deputy presidential chief of staff Vladislav Surkov said, adding that "those who killed him should be in prison." Ethnic criminal groups in Moscow will be eliminated, Surkov told Izvestia daily.

Russia is a common home for all nationalities, the official noted. Those who come to Moscow from the North Caucasus to work and study should be protected, he noted. At the same time, they should understand that they have a part to play in Muscovites' attitude to them.

Speaking with trade union leaders on Wednesday, the Russian president called for a civilized approach to efforts to attract foreign labor. The modern migration policy should take into account the interests of Russians and prevent the use of illegal workers from abroad, Medvedev stressed.