Living on the front line – for eight years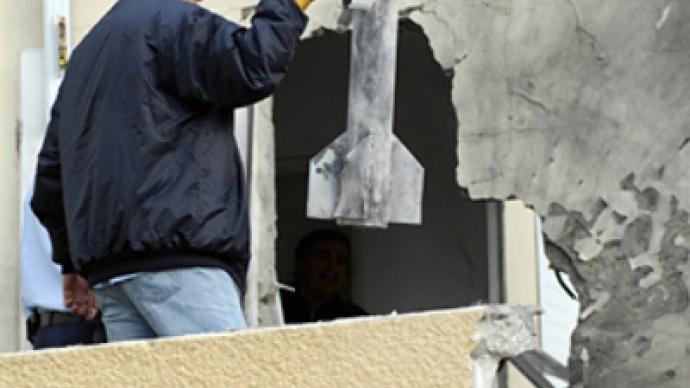 The contrails of jets trace linked circles and two silver observation dirigibles hover overhead, perhaps watching the Gaza Strip for outgoing rockets or tracking potential targets for the circling planes.
Inez Madmon, a housewife in her 40s, sits on the front step of her apartment building in this drab town of 20,000, looking up at the scene. She is enjoying the sunshine after a bout of cold weather. Enjoying too the relative calm of this Saturday – Day Eight of the Gaza campaign. Only one rocket had fallen on Sderot this Sabbath day and it is already past noon. Periodic buzzing overhead marks the passage of an unmanned observation aircraft to or from Gaza.
"We used to go to Gaza for shopping," she says. "I bought my living room set there and Gaza workmen did the tiling on my floor. I don't think we'll have such relations again. The older generation there that wanted peace is gone. The younger generation has been poisoned against us."
Sderot is the closest Israeli town to the Gaza Strip, barely a mile away. Residents of the two locales had close relations for decades after the strip was captured by Israel in 1967. There are still a few residents who communicate with people on the other side by telephone or e-mail.
However, when the second Palestinian intifada, or uprising, broke out at the end of 2000, Sderot's proximity made it the principal target for Gaza-made Qassam rockets, which had limited range. Thousands have fallen on Sderot since, and Inez has heard them all, especially during the escalation of the past week.

"One rocket exploded just outside my kitchen window at the rear of the building on Tuesday," she says. "The blast knocked me down and I hurt my knee. They took me to hospital. Another rocket hit in front of our building, another one down the street." She does not look particularly upset and even smiles when it is suggested that she is living at ground zero.
"Believe me, it pains me what is happening to their children now," she says, referring to the children of the Gaza Strip. "But they've been shooting at us indiscriminately for eight years. It's got to end."
For someone who has not been in Sderot a few years, the round concrete structures spaced regularly on the sidewalks around town are puzzling. They look like kiosks but appear too small to serve any commercial purpose. A young couple sits on a stone wall a few metres from one. "It's a shelter," says the woman, Tehila Abergil, 27. "When we hear the siren, we're supposed to get into one if we're on the street."
Even bus stops have these shelters. In some parts of town, concrete slabs have been placed in a roofless Stonehenge-like circle, to serve the same purpose. Because of its proximity to Gaza, Sderot residents have only 15 seconds to get into a protected space after the siren which signals a rocket coming from Gaza. Towns further away have 45 seconds. Tehila and her boyfriend have not sat next to a shelter by accident. He is from the neighbouring town of Netivot, which has only recently found itself within range of Gaza's rockets. "They're used to it in Sderot," he says. "We're not."
This is the first day in a week that Tehila has left home, except for short walks to the supermarket. But most residents have heeded civil defence warnings and remained at home. Tehila was born in Sderot and has "sort of" adjusted to the incessant rocketing. "Between rocket and rocket, people function, but it takes a toll, especially on children."
Before Sderot became famous as a pin-cushion for Hamas rockets, it was famous for something even more incongruous – as a spawning ground for some of Israel's best ethnic pop and rock music. At least half a dozen acclaimed bands, made up of children of North African Jewish immigrants, have emerged over the years from the town's shelters, where they rehearsed. At present, however, the music scene is muted, says Tehila.
Police are posted at every road junction abutting Gaza and on every trail leading towards the strip to keep civilians away from the border where troops have been deployed. At a side road close to the border, military policemen turn back a journalist's car. "No entrance," says one. "Especially today."
In the late afternoon from a distance, Gaza is a low, white, built-up continuum along the coast, separated from Israeli farming villages by a mile or more of verdant fields. Plumes of black or white smoke rise periodically. Inside Israel, there is an occasional sound of a rocket exploding. All in all, though, a quiet day, the quietest since the war began. A quiet that seems to anticipate something.
Abraham Rabinovich for RT
You can share this story on social media: