Political struggle on all "fronts"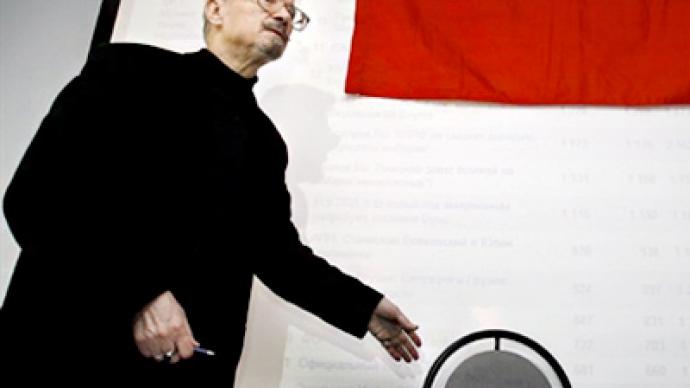 Several unregistered opposition groups are trying to create "The National Salvation Front" as a response to United Russia's Popular Front initiative.
Eduard Limonov, a writer and opposition leader, claims the National Salvation Front has already been created. Apart from his Other Russia movement, the new organization may unite Sergey Udaltsov's left-wing Rot Front party and other groups. But this union of different opposition forces is unlikely to take part in the parliamentary election scheduled for this December. In accordance with election regulations, political parties cannot create political blocs to participate in polls. Limonov admitted that opposition groups would not take part in the election to the State Duma because they have not been registered. Nevertheless, the declaration of the new front may be published next week. The new organization is being created "for political struggle," Limonov told Interfax. "Political struggle is not limited by elections. The methods will be peaceful, including non-violent resistance." However, Udaltsov said the negotiations were in the final stage, but that it was premature to say the front has been already established. It could also have a different name, such as a "Committee of National Salvation." Even if created, the opposition front will not be a united organization. Udaltsov described it as "a tactical union of those cut by the authorities from the political process." Many so-called non-systemic opposition groups will not be able to take part in the elections, he said. Rot Front party was denied registration five times, Udaltsov noted, calling this one of the reasons why different groups should unite. The goal is to hold joint campaigns and ask courts to allow these forces to take part in the political process, he explained. An organization called the National Salvation Front existed in Russia from 1992-1993. It was a broad coalition of communist, socialist and nationalist organizations fighting against liberal political and economic reforms. This time, the move is seen as an effort to oppose the ruling United Russia's idea to establish the All-Russia Popular Front, which was recently floated by Prime Minister Vladimir Putin. Russia may soon get even more political "fronts". The Fair Russia party announced its intention to create its own front to consolidate forces opposing United Russia before the parliamentary elections. Several different nationalist groups recently said they have created their union. And former world chess champion Garry Kasparov's opposition movement is also called the United Civil Front.
You can share this story on social media: