Banker Lebedev starts community service in Tula region
Published time: 21 Oct, 2013 14:11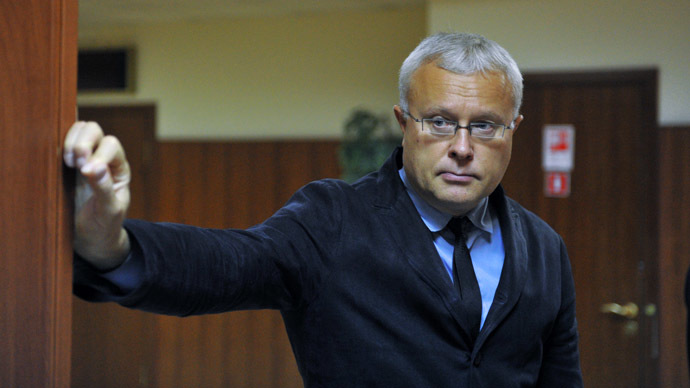 Billionaire banker Aleksander Lebedev, who was sentenced to 150 hours community service for a brawl with real estate mogul Sergey Polonsky during a TV show, has arrived to his native Tula Region to serve his punishment.
53-year old Lebedev, whose personal wealth exceeded $1.1 billion in 2012 (according to the Forbes magazine), went to the Tula Region where he is officially registered as a resident after talking to officials from Moscow city directorate of the Federal Service of Execution of Punishment. Before leaving he was fingerprinted and signed the necessary papers, Russian news agencies reported.
Lebedev told the press that most likely he would work on a construction site, building a school or a kindergarten.

However, the ITAR-TASS news agency quoted some sources in the directorate as saying the banker could be sent to clear orchards, mow grass or do janitorial work.

The banker is known for his sponsorship of the popular Russian liberal newspaper Novaya Gazeta (of which Mikhail Gorbachev is also a key shareholder) and for ownership of the British daily the London Evening Standard.
Lebedev was sentenced to compulsory works in July this year after a lengthy trial. The story started in September 2011 when Lebedev took part in a TV show aired by the popular NTV channel on the issue of social responsibility of businessmen. Another participant in the program was real estate developer Sergey Polonskiy – known for his controversial media statements.
After a heated row Lebedev jumped from his chair and attacked Polonskiy who fell on the floor and tore his jeans.
Shortly afterwards Polonskiy posted a photo of himself on social networks holding the remains of the jeans, and sued Lebedev for beating him up. Lebedev pleaded not guilty, insisting that he acted in self defense, protecting himself from Polonskiy's dangerously fast moves and that he hit the developer only twice. A physical attack becomes a criminal offence only when three or more punches are delivered.
The court ruled in favor of the developer and sentenced the banker to 150 hours of community service.
During the court hearings Polonskiy went on vacation to Cambodia where he was arrested for beating up and illegally detaining local citizens. Polonskiy has spent three months in a Cambodian prison and is currently awaiting trial.