Ingush leader condemns unsanctioned protest rally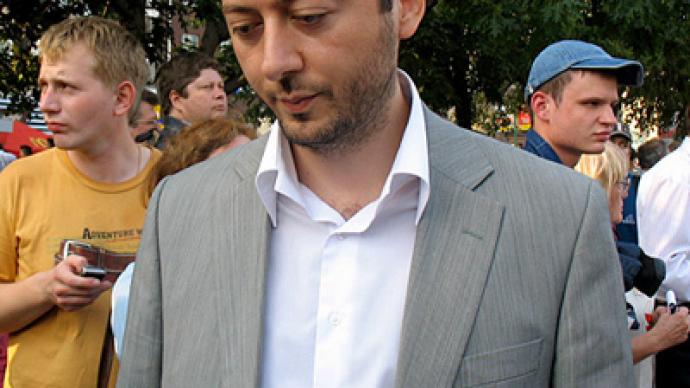 Ingushetia's leader Yunus-bek Yevkurov has criticized an unsanctioned protest rally in the city of Nazran – which was dispersed by police - saying that "crooks" were attempting to draw public attention.
"There is no any aggravation of the situation in our republic, just crooks who organized a so-called demonstration, tried to draw attention, and offered resistance to law enforcement agencies," Yevkurov said as cited by newsru.com.According to reports, about 80 people gathered in the center of Nazran on Wednesday for a rally organized by Magomed Khazbiyev – the leader of the Ingush branch of the opposition party "Of People Freedom – For Russia without Outrage". The protesters blocked Bazorkin Street, threw stones and bottles at the police and demanded the release of Iliez Gorchkhanov – a resident of the North Caucasian republic who disappeared from his home village on March 21. The participants of the protest believed that the Federal Security Service (FSB) could be behind the disappearance and the man could have been detained on suspected involvement in an outlawed armed gang.However, the Ingushetian Interior Ministry and the FSB press services told Interfax that they were not aware of Gorchkhanov's whereabouts and had no information on whether he was detained at all. Yevkurov said that authorities are aware that the man is missing and currently the police are searching for him. But, he stressed, that was not a good reason to organize an illegal protest and throw stones at police.As a result of the unsanctioned demonstration, ten people, including Khazbiyev, were detained. Five of them have already been sentenced to five days of arrest for "disorderly conduct", reports RIA Novosti.The fate of the opposition activist and four more protesters is yet to be decided. "Magomed Khazbiyev is suspected of an attempt to organize mass disturbances and resist law-enforcement personnel," the republic's Interior Ministry told Itar-Tass. Police also seized an unregistered gun with rubber-bullets from Khazbiyev. Meanwhile, some reports suggest that up to a thousand people took part in the rally. According to Human Rights Center Memorial, at least ten protesters were injured during clashes with police. Khazbiyev's sister Khadi claims that Magomed along with their two other brothers were beaten by uniformed men wearing masks at their father's home on Wednesday afternoon. She stated that one of the men was later taken to hospital with serious injuries. The "Caucasian Knot" website uploaded a video, which it says was filmed by Khadi during her brothers' "kidnapping" by security services. Accompanied by an emotional woman's comments, the recording does show about 20 men wearing uniforms in a country-house courtyard who detain several men. However, there is no evidence that violence was used against them.The Ingush leader Yevkurov said that the republic's Prosecutor General has carried out a respective inspection that revealed that law enforcement agencies did not violate the law while dispersing the unsanctioned rally. He also pointed out that Khazbiyev and his brothers are currently under investigation over an alleged robbery-assault on Yevkurov's former press secretary. And that still did not stop them from organizing an unsanctioned rally. According to Yevkurov, Khazbiyev escaped from police and attempted to hide at home, where he was later detained by police.
You can share this story on social media: