Global political problems must not be solved by force, says Russian foreign minister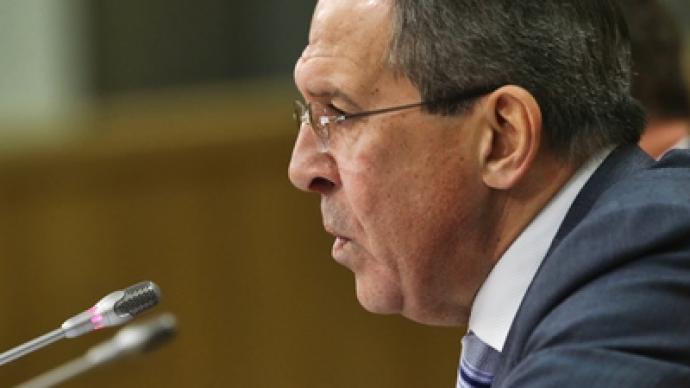 Moscow deems it inadmissible that the international community solves political problems existing in various countries by force, Foreign Minister Sergey Lavrov told reporters in Kiev.
"It is necessary that the international community no longer allows the attempts to solve the political problems by force and instead stimulates the political groups in corresponding states to hold talks," Lavrov said at a press conference following a meeting of foreign ministers of CIS countries that took place in the Ukrainian capital on Friday. Lavrov added that the unsettling events in the Middle East and North Africa underline his point. The Russian Foreign Minister also noted that these same events demonstrate that the authorities of foreign governments should not waste time introducing necessary reforms that would assist their normal development. Lavrov's counterpart from Tajikistan, Khamrokhon Zarifi, said that he was sure that the Middle East crisis would not spread to other countries, in particular in Central Asia. "Every region has its specifics and therefore we cannot connect the influence of one region on another in a mathematical way," Khamrokhon Zarifi said. "I believe that there are no prerequisites for such an effect on Central Asia." Meanwhile, Lavrov mentioned that Moscow was concerned about the fate of several Russian journalists reportedly detained by the opposition forces in Libya near the city of Benghazi. The foreign minister said that the Russian authorities might address governments that are rumored to have special troops in Libya with a request to assist in freeing the Russian citizens. Lavrov also touched upon the issue of foreign trade in his statements, acknowledging that Russia, like Ukraine, will seek the introduction of a free-trade zone with the European Union. The Russian official added that the membership in the Customs Union (the economic organization of Russia, Belarus and Kazakhstan) will not prevent any country from entering the World Trade Organization (WTO). Lavrov reminded the press conference that Russia is actively seeking membership in the WTO.
You can share this story on social media: