Criminal case initiated against nationalist leader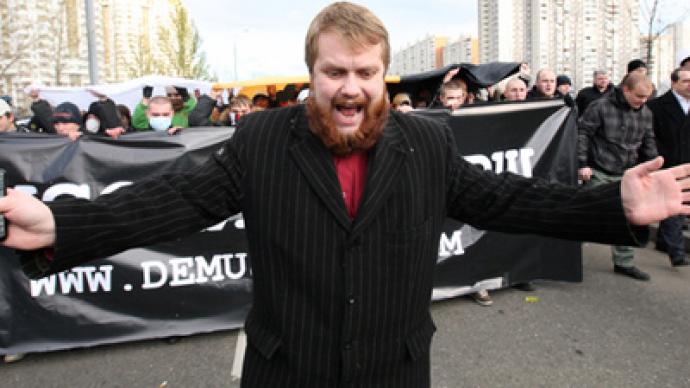 A criminal case has been launched against Dmitry Dyomushkin, leader of the Slavic Force movement, chairman of a newly-formed nationalist union "Russians" and former leader of the banned "Slavic Union" organization.
His apartment has been searched, Interfax reported quoting Dyomushkin, who talked to them over the phone. "From the early morning, people from the Center for Fighting Extremism have been searching my apartment," Dyomushkin told the news agency. "They showed me a search warrant issued by the judge of the [Moscow] Khamovniki District Court." He added that they are interested in any documents related to the activities of the Slavic Force.Dyomushkin also said that investigators have also searched the apartment of his lawyer, Dmitry Bakharev. According to the prosecution, the Slavic Force is a successor to the Slavic Union, which was banned on April 27 this year by a court order. The ruling read that "the aims and actions of the movement in question are of extremist character, and which have resulted in the violation of the human and civil rights and freedoms and infliction of harm to the personality and health of citizens, society and the state."Dmitry Dyomushkin insists that the court ruling was "extremely vague.""We filed a request to explain to us the decision. We asked 25 questions in it. Namely, whether Dyomushkin is limited in his constitutional right to establish new movements and be elected into its governing bodies or whether, for example, practicing sports or getting together for barbeque of the Slavic Union former member will be considered a violation of law," he said to the New Region news agency. Their request, however, was denied by the court. The nationalist union "Russians", established on May 3 and presided over by Dmitry Dyomushkin, partially aims to replace the Slavic Union, but also has some more ambitious goals of bringing together numerous nationalist organizations. It is now made up of 40 organizations and movements proclaiming the creation of an "ethnic state of Russians" as their aim.Dyomushkin and his supporters have repeatedly organized the so-called Russian marches in Moscow and across Russia,in which they were seen wearing Nazi uniforms and displaying Nazi symbols. Their rallies have never received the go-ahead from the authorities.
You can share this story on social media: