Rights Activist Jailed in Belarus after Poland & Lithuania wave flag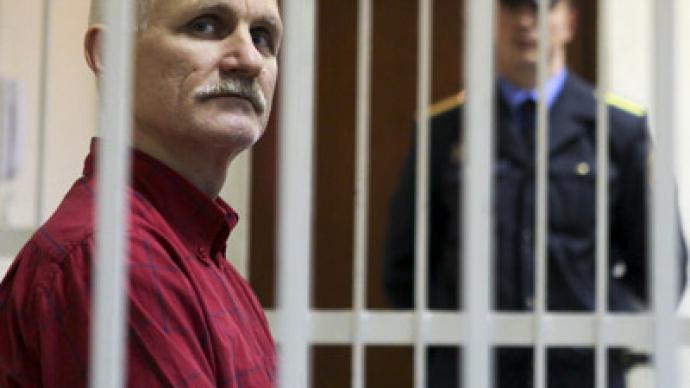 Ales Belyatsky, the head of the Belarusian rights center Vyasna, has been sentenced to four and a half years in prison for not paying taxes on donations collected on foreign bank accounts.
­A Belarus court also ordered the confiscation of Belyatsky's personal property in order to compensate approximately $63,000 in unpaid taxes. Attorneys for the human rights head said they were planning to appeal the charges.About 100 rights activists from Belarus and other countries, as well as ambassadors and other diplomats from several European countries, were present at the court session. Some members of the audience reacted to the sentence with catcalls and accusations.Belyatsky was arrested in the Belarus capital of Minsk in August of this year. He was charged with large-scale tax evasion after Belarus law enforcers received information from officials in Lithuania and Poland that the activist had working bank accounts in their respective countries.Belarus authorities say Belyatsky ran almost 2 billion Belarus rubles (about $800,000) through these accounts and failed to pay 352 million Belarus rubles income tax. Lithuania and Poland later apologized to Belyatsky and fired the officials who allowed the disclosure of information. Belyatsky's lawyers say the money on the foreign accounts were sent by foreign NGOs and used strictly for running the Vyasna center and thus should not be taxed. The defense team also noted numerous mistakes in the documents lack of any calculations, in particular the sum of damages inflicted to the Belarus state is simply stated and not based on anything. International Human Rights centers and top EU officials have already called upon the Belarus authorities to free Belyatsky. Meanwhile, the European Union's foreign policy chief Catherine Ashton and Commissioner Stefan Fuele earlier voiced the EU's concern over Belyatsky's case. They described the trial as a "highly visible and symbolic manifestation of the crackdown on civil society in Belarus."