Salt Bae feeds Chechen leader Kadyrov meat straight from a knife (VIDEO)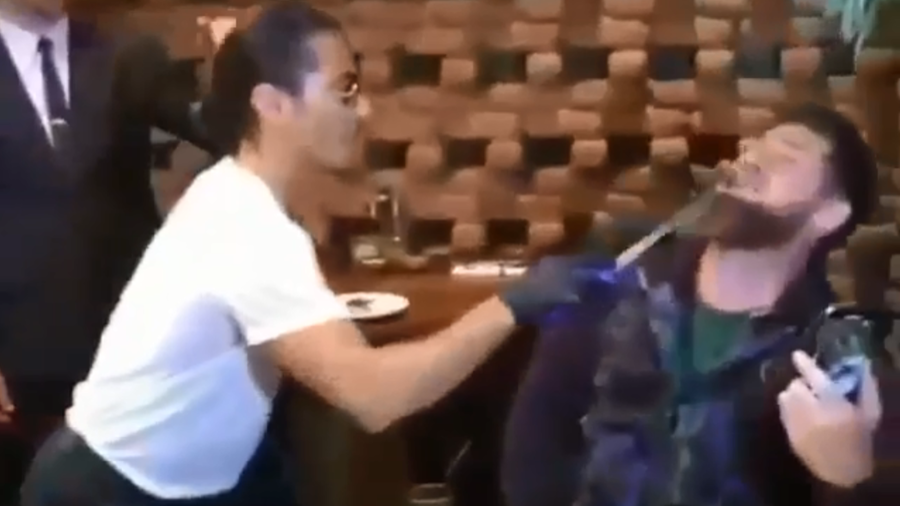 Chechen leader Ramzan Kadyrov has received the Salt Bae treatment, sampling meat by the famous Turkish restaurateur, even eating right off his knife.
Footage of the culinary experiments by the internet-famous Turkish restaurateur Nusret Gokce, commonly referred to as Salt Bae, has been shared on the official Instagram account of Kadyrov.
The video shows Salt Bae performing his trademark moves, "suavely" cutting meat right in front of the Chechen leader and then sprinkling it with salt.
The restaurateur then picks up a slice of meat with his knife and gives it to Kadyrov, who eats it right off the blade. The Chechen leader filmed the whole process and naturally snapped a selfie with the famous cook.
While the restaurateur, whose culinary techniques went viral on the internet early last year, served many notable people, some encounters actually put the beloved cook under scrutiny.
READ MORE: Marco Rubio incites online mob against 'Salt Bae' chef who dined with Venezuelan leader
In September, Salt Bae hosted Venezuelan President Nicolas Maduro for dinner at his restaurant in Istanbul. The restaurateur came under barrage of criticism from Venezuelan opposition – as well as some top US officials – who accused the cook of feeding the "overweight dictator" while his compatriots "suffer and die of hunger."
Like this story? Share it with a friend!