Relatives abroad might thwart Russians' careers in public service
Published time: 11 Jul, 2014 09:34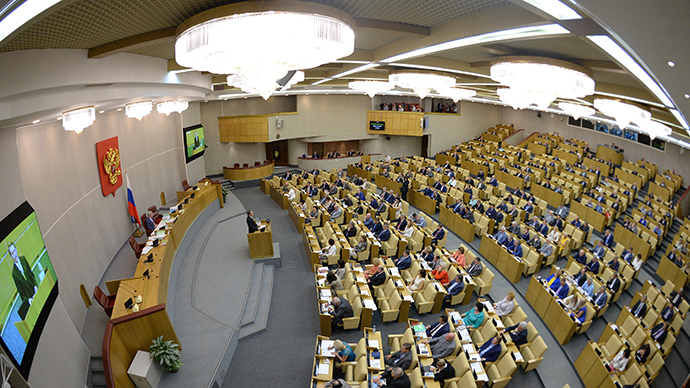 A ruling party MP claims to be preparing a bill that, once approved, would bar all Russians with relatives living in foreign nations from taking any official posts, or even being employed by state agencies.
The initiative comes from United Russia MP Evgeny Fyodorov, who is already famous for several similar suggestions, some of which had been passed as laws.
In an interview with the mass circulation daily Izvestia, Fyodorov explained that relatives living abroad could become leverage by which Russia's opponents might force officials into taking decisions which are unfavorable for their motherland.
"In the course of negotiations blackmailing can start and betrayal of state interests can easily become one of the demands. They exchange a hostage for a public servant's stance. Therefore we must consider if candidates for state posts have relatives abroad, this is a factor of vulnerability," Fyodorov told reporters.
He added that about 80 percent of State Duma deputies had encountered similar attempts of pressure, but in 95 percent of cases preferred not to disclose them, instead secretly holding negotiations and coming to an agreement with blackmailers.
The Russian Foreign Ministry has repeatedly issued official warnings to all state employees asking them to be careful when traveling to foreign countries as such trips could result in provocations from foreign special services.
Fyodorov mentioned one recent example in which the son of State Duma MP Valery Seleznyov was detained by US law enforcers in the Maldives and taken to Guam to face arrest and extradition to the United States over charges of cyber fraud. Seleznyov and the Russian Foreign Ministry have already labeled the US move a 'kidnapping' and promised to press for the release of the detained man.
Fyodorov also said that a similar ban has already been introduced in China from this year – there civil servants with relatives living abroad officially cannot get a promotion.
This is not the first legislative initiative voiced by Fyodorov within the so-called "nationalization of the elites" course that kicked off in 2013. Previously he has suggested banning officials from marrying foreigners, sought to extend the existing ban on foreign bank accounts and securities to include real estate, and wanted to make state-owned corporations stop using the services of US consulting companies. Fyodorov also wanted Russia to ban all foreign adoptions.
It should be noted that so far none of these extreme suggestions has been passed into law. However, the authorities have taken some huge steps towards the nationalization of the elites – currently top state officials and heads of state owned corporations cannot hold bank accounts abroad or own foreign-issued shares and bonds.
The parliament is currently considering the presidential motion to extend these restrictions to all involved in preparing the decisions concerning the sovereignty and national security of the Russian Federation.
The ban on foreign assets has already caused billionaire Mikhail Prokhorov, whose fortune includes many foreign assets, including US basketball team the Brooklyn Nets, to officially quit politics and put his sister Irina in charge of his political party, Civil Platform.