Yavlinskiy says Yabloko party only alternative to United Russia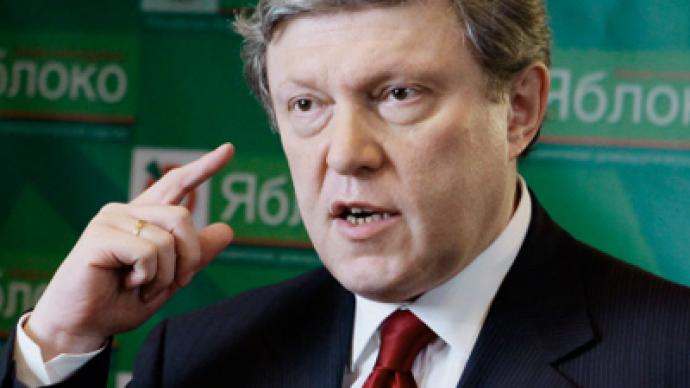 Veteran Russian democrat Grigory Yavlinskiy has called his Yabloko party the only alternative to United Russia, and called for all supporters to use their vote in order to prevent possible forgery of ballots.
Grigory Yavlinsky was one of Yabloko's founders in the early 1990s. He announced his retirement from politics some time ago, but decided to return and head the party's election list at this year's parliamentary poll.
Speaking at a press conference in Moscow on Wednesday, Yavlinskiy said that Yabloko was the only real alternative to the current political leadership in Russia, as no other democratic parties or groups are officially registered and parliamentary opposition, such as the Communist Party and the Liberal Democratic Party are, in Yavlinsky's view, only strengthening the parliamentary majority of United Russia.
Yavlinsky said that Yabloko was the only party that promotes "modern European political views."
He also called for everyone not supporting the current policy of the Russian authorities to turn out to vote on polling day. He also said that the voting choices should be premeditated and that simply supporting anyone bar the ruling party would not yield results. Representatives of the unregistered "fringe" opposition in Russia are currently promoting the idea of voting for any party but United Russia, saying this would show the authorities the level of people's dissatisfaction with their actions.
Yavlinskiy also stressed that the more people who vote in the elections, the less falsification there will be.
Speaking of Yabloko's political program, Yavlinskiy said the former head of Yukos oil company, Mikhail Khodorkovsky, must be freed as soon as possible. "All our program, all our modernization, is concentrated on what we shall do to prevent the dramatic processes like the trial of Khodorkovsky and thousands of other Russian entrepreneurs from ever happening again," the Yabloko candidate said.