Era of confrontation with Russia over– Ukrainian President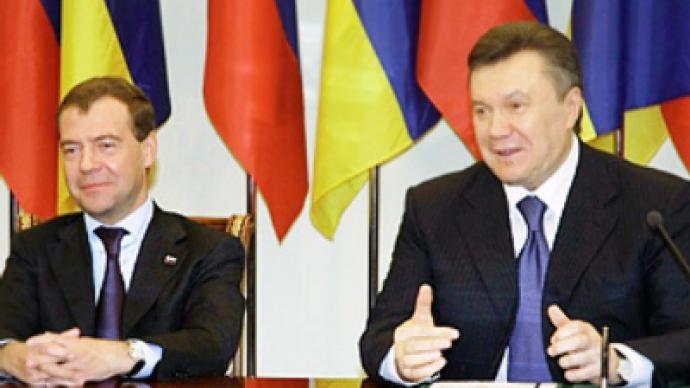 On Thursday Dmitry Medvedev and Viktor Yanukovich signed the bill ratifying the agreement on Russia's Black Sea fleet in Ukraine.
On the Russian side, the document was accepted by the Lower House of the Russian Parliament on April 27 and approved by the Upper House on April 28.
Earlier the agreement was also ratified by the Ukrainian Parliament.
Ukrainian leader Viktor Yanukovich has said that he has managed to put relations with Russia on a new track of friendship and equality.
"After five years of portraying Russia as an enemy, it is not easy to regain the Russian leadership's confidence in Ukraine. But I have managed to do so, and now I am ready to tell my voters: from now on, dialogue with our big neighbour will be based on principles of equality, neighborliness and healthy pragmatism, rather than confrontation and anti-Russian rhetoric," said Yanukovich in an address to the Ukrainian people following the extension of the Russian Black Sea Fleet's presence in Ukraine.
The agreements signed between the two presidents in Kharkov, prolong the lease of the Russian naval base in Ukraine's Crimea for another 25 years, and in return will allow Ukraine to pay for Russian gas with a 30% discount.
Commenting on the deal, Yanukovich said that he does not think Ukraine paid too much for the agreement:
"Did we pay too much for that? No, because the agreements reached with Moscow are mutually beneficial."
He also noted that not only the country's economy as a whole, but also every citizen will benefit from the recent Kharkov agreements. "The document signed in Kharkov will ensure a significant reduction in the price of gas for us. This means higher social protection of every Ukrainian and the beginning of our economy's way out of a deep crisis," said Yanukovich, adding that Europe will also benefit from this deal too as it "means guarantees of tougher energy security" and the whole "civilized world" praised the deal and see it as "Ukraine's unconditional success."
"Only our opposition remains unhappy. Why is it calling us to new barricades, why is it undermining stability that has been achieved for the first time in long years of endless wars between the chiefs of state? Because it is seeking once again to dissolve the parliament in the name of so-called political expediency, because it understands stability, a strong vertical structure of the government, order and normalization of our relations with Russia will mean its political death. It is once again striving for power at any cost," said Yanukovich.
Following these statements, Ukrainian Ambassador to Russia Konstantin Grishchenko said that Ukraine wants to remain Russia's friend and looks to develop mutual potentials, especially in the economy, as he sees Russia as a "key country to carry out key projects" with.
"It is necessary not only to remain Russia's friend, but also to do our best this friendship to develop mutual potentials," said Grishchenko in an interview with Frankfurter Allgemeine Zeitung on Thursday.
He said that the agreements, signed in Kharkov, are to set a long-term roadmap for the development of the bilateral relations between the countries. Talking about the Russian Black Sea Fleet in Crimea, he has said that he does not see it as threat to national security and stressed that people's sentiments about the issue should be taken into an account.
"There is and has never been a frozen conflict in the Crimea. On the contrary, the fact is that President Viktor Yanukovich did not receive so many votes, but in this region he should take into account the opinion of people who voted for him," said Grishchenko.
However, while talking about improving relations with Russia, he also said that Ukraine's future "will be in the European Union."
"We seek to join the EU as soon as possible. However, we know that we could not enter the organization if we only knock at the door. Thus we concentrate our efforts on practical steps – on an association agreement, liberalization and, finally, a visa abolition agreement," said the Ukrainian ambassador.