Chasing dragons - Yabloko sizes up 'the monster'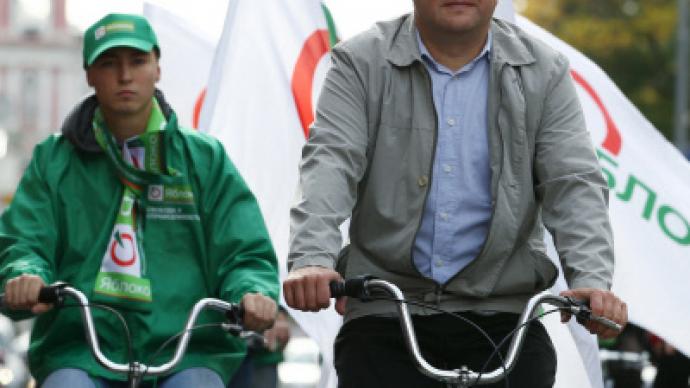 The head of the political party Yabloko has said it intends to side with all organizations representing civil society in an effort to fight the 'multi-headed party of power' at the forthcoming parliamentary elections.
Sergei Mitrokhin said in an interview with the Rosbalt agency that the parliamentary majority United Russia and the leftist party Just Russia were in essence representative of one political force.
"The biggest head of this multi-headed party of power is United Russia, but there are others who pose as opposition, such as Liberal Democratic Party and the Fair Russia," Mitrokhin said.
The head of Yabloko said that various organizations that represent civil society would be his party's allies at the forthcoming elections. He went on to cite various organizations who fight against the arbitrariness of the authorities, including the Greens, Human Rights organizations, women's organizations and groups that promote the culture of Russia's various ethnic groups.
Mitrokhin also included business leaders who had not joined United Russia's Popular Front as Yabloko's allies, saying that these people supported Russia's modernization process in reality and not simply in their speeches.
A number of independent trade unions also support Yabloko, he added.
Yabloko is one of Russia's oldest political parties with a consistent liberal and democratic program. It had a minor representation in the parliament in the first, second and third congregation of the Lower House, but got less than 2 percent of votes in 2007 and is not currently represented in the State Duma.
Yabloko is taking part in this year's parliamentary elections on a platform that pledges to make major state investments in housing, road construction and land development. The party's former leader Sergei Yavlinsky, who left the party post in 2008, has made a comeback in politics and now heads the party's parliamentary elections list.
He has said that he could become Prime Minister if the party's program wins approval as the nation's official development plan.