Ruling party MP stomps on Russian opposition's symbol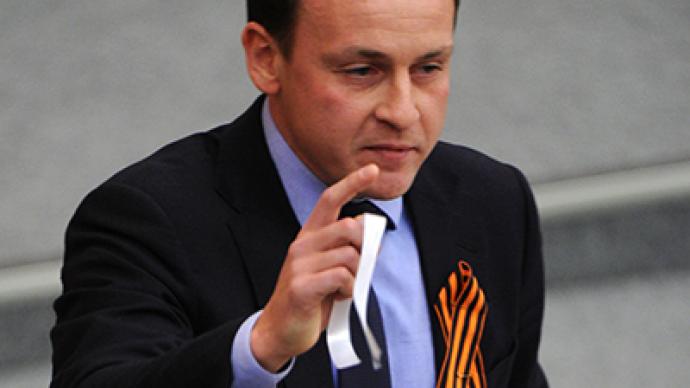 United Russia MP Aleksandr Sidyakin, author of a recent anti-protest bill, stomped on a white ribbon during Friday's State Duma session. The ribbon is the symbol of the antigovernment protests that began in December last year.
"I want to do with this ribbon the same thing that people who ordered provocations wanted to do with our country – I want to tread [on] it," Sidyakin announced during  the lower house's plenary session.
Sidyakin called the ribbon a symbol of capitulation, treachery and "exported revolution," which foreign propagandists are attempting to impose on Russia.
Sidyakin also criticized several deputies from the opposition Fair Russia party for wearing "that white cloth" on their chests. He said that if they continued to display the ribbons, he would ask to be seated at the opposite side of the Duma session hall.
The deputy said he hoped that those who created unrest in Russia will be punished, and then finally made good on his word by throwing the "nasty cloth" on the floor and stomping on it.
The MP wrapped up his theatrical performance with rhymed (in Russian) lines: "There will be no revolution here. Revolution shall not pass, because Russian people do not want it."
The leader of the Liberal-Democratic party, Vladimir Zhirinovsky – also known for his flamboyant behavior – said he enjoyed Sidyakin's speech.
"It sharply improved my mood and spoiled Fair Russia's mood," RIA-Novosti quoted him as saying.
The white ribbon emerged in 2011 as a symbol of the Russian protest movement after the December 4 parliamentary elections, which many alleged were rigged. The elections were followed by a series of mass demonstrations across the country, and many protest participants wore the ribbon. The symbol can be seen on internet blogs, cars and on clothing, indicating that the bearer is an advocate of political reform and open elections.
Russian President Vladimir Putin once described the white ribbon in an unflattering way, saying it looked "like contraceptives, [it's] like they are fighting AIDS."
Putin later expressed his deep respect for those participating in protest rallies, saying that many of them are patriots and that he had no animosity for symbols of color revolutions. "I felt sorry for the people who are using the technologies well-practiced elsewhere abroad," he explained during Seliger, an annual pro-Kremlin youth forum held in July.
Alexander Sidyakin trod on a white ribbon, the symbol of 2011 December protests. (AFP Photo / Vladimir Fedorenko)
Participants in a protest rally held on Palace Square in St Petersburg. (RIA Novosti / Vadim Zhernov)
An activist of For Fair Elections movement hands out white ribbons during the White Street motor rally on Moscow's Garden Ring road. (RIA Novosti / Alexander Vilf)