Washington revokes visa for Venezuelan ambassador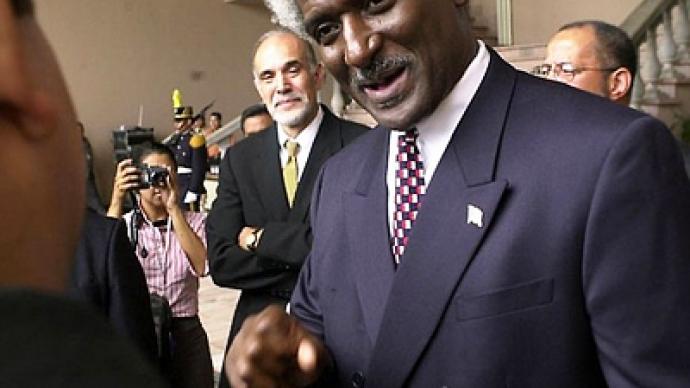 A diplomatic scandal is brewing between the US and Venezuela. President Barack Obama has revoked the visa of Venezuela's ambassador to Washington.
­The move follows Venezuelan President Hugo Chavez' refusal to accept Larry Palmer as US ambassador in Caracas.

"We said there would be consequences when the Venezuelan government rescinded the agreement regarding our nominee, Larry Palmer. We have taken appropriate, proportional and reciprocal action," Mark Toner, spokesman for the State Department, said on Thursday.

Chavez is staunchly opposed to the nomination of Palmer, who is backed by the US State Department. Palmer's remarks about the low morale in the Venezuelan army and the country giving shelter to Colombia's FARC rebels angered the Venezuelan leader.

In a televised address on December 28, President Chavez called the statements "disrespectful" and "violating the most elemental international laws and conventions."

He also said he is not afraid of US reprisals and will go as far as severing diplomatic ties with Washington.

"If the US government is going to expel our ambassador there, then do it. If the US government is going to break off diplomatic relations – do it," Chavez said.