Washington looks to extend WMD-disarming pact with Moscow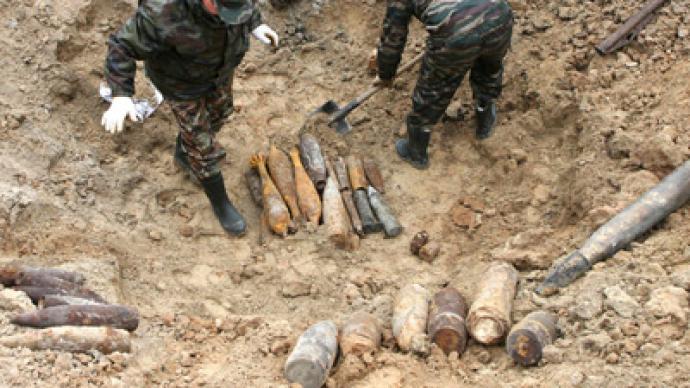 The US has expressed a desire to extend its agreement with Russia to dismantle weapons of mass destruction left over from the Soviet era. Moscow said it may scrap the program.
"We greatly value the ongoing Nunn-Lugar Cooperative Threat Reduction (CTR) program," US State Department spokesperson Victoria Nuland told reporters in Washington on Thursday. "We believe there is a lot of future work for the US and Russia to do together in the CTR space."
The Russian Foreign Ministry announced this week that US proposals to extend the decades-long Nunn-Lugar Cooperative Threat Reduction program do not meet Moscow's current policy goals.
"We have received an American proposal on extending the 1992 Agreement, which is due to expire in June 2013," ministry spokesperson Alexander Lukashevich said. "Our American partners know that their proposal is at odds with our ideas about the forms and basis for building further cooperation in that area."
The program has overseen the deactivation of more than 7,500 nuclear warheads, heightened security at nuclear storage facilities, neutralized chemical and biological weapons and safeguarded radioactive materials.
Despite these successes, Nunn-Lugar is up for renewal at a time of increased Russian scrutiny, and even suspicion, of US-funded activities in Russian territory. Last month, Moscow informed the offices of the United States Agency for International Development (USAID) that it would not be permitted to continue operating in Russia.
According to the Russian Foreign Ministry, the US agency was acting beyond the guidelines of its mandate and attempting to manipulate Russia's electoral processes.
"The character of the agency's work…did not always comply with the declared aims of cooperation in bilateral humanitarian cooperation," the Foreign Ministry said in a statement on its website. "We are talking about issuing grants in an attempt to affect the course of the political processes in the country, including elections at different levels and institutions in civil society."
Another contentious issue is the US missile defense system planned for Eastern Europe. The US and NATO refused to include Russia in the ambitious project, which has the potential to disrupt the balance of nuclear forces and possibly spark another arms race. Washington and Brussels also refused to provide Moscow with written guarantees that the system will not be used against Russia.
Amid these heightened tensions, Washington said it is prepared to hold talks with Moscow over revisions to Nunn-Lugar.
"They have told us that they want revisions to the previous agreement," Nuland said. "We are prepared to work with them on those revisions, and we want to have conversations about it."
"This is a program that has paid dividends for the Russian people, for the American people; it's paid dividends globally, and we hope to be able to continue it," she added.
Moscow is demanding that any new agreement be signed "based on the principles of equality and mutual respect," a source in the Russian Foreign Ministry told Kommersant, adding that the current program is "discriminative toward Russia," and fails to take into account changes that have taken place in Russia since the agreement was signed in the 1990s.
Russian officials are also concerned that the US could exploit the program to acquire "sensitive data" about Russia's nuclear arsenal, the source said.
CTR began in 1991, and was extended in 1999 and 2006. The United States has reportedly spent about $8 billion funding CTR programs.