Putin gives Tajik leader sniper rifle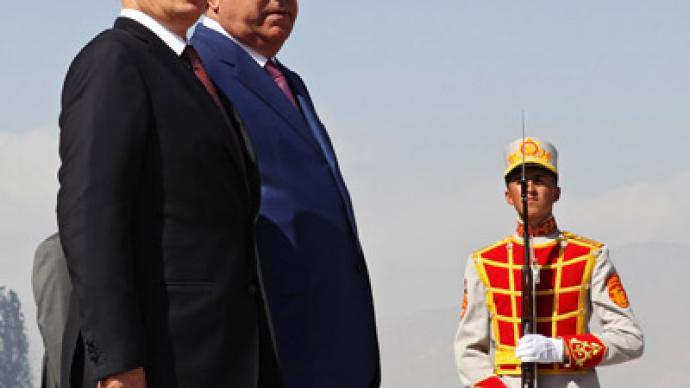 President Vladimir Putin has given a Russian state-of-the-art sniper rifle to his Tajik counterpart Emomali Rahmon, who is celebrating his 60th birthday on Friday.
Putin, who also turns 60 on Sunday, began the meeting in the capital Dushanbe congratulating Rahmon on the anniversary.
"I have always known that you are a wise person. You have invited us, decoyed so to say, on your birthday because one cannot be denied anything on his birthday. So we will have to sign whatever you want us to," he said in jest.
As a result of the bilateral talks the sides did seal a bunch of agreements, including those on cooperation in security, migration sector.
Moscow and Dushanbe have managed to iron out differences over the future of Russia's 201st military base in the former Soviet republic. Defense Ministers of the two states signed a lease agreement which replaces a similar document expiring in 2014 and extends the term of Russian military's presence up to 2042.
The base presence accords with strategic interests of both Russia and Tajikistan and will help to strengthen security and stability in the entire Central-Asian region, Putin noted at a media conference after the talks.
"Under the new document, a fee is practically not applicable," Putin's aide Yury Ushakov told journalists. "We did not have disputes during discussions of the document. There were certain requirements from both sides; and we have reached a compromise. Tajikistan needs the base as much as we do for security in the region."
The base deployed in Tajikistan hosts Russia's largest military contingent in Central Asia since 1991, with about 7,000 servicemen stationed there.
It was also agreed in Dushanbe that Russia will help Tajikistan to modernize its army and supply it with modern weapons and military hardware.

Later in the day, Putin met with the Russian servicemen at the 201st military base. The president spoke about the NATO eastward expansion borders, which has long been a concern for Moscow.
The presence of strike or missile defense systems near Russian borders would pose "real threats for our territory," Putin pointed out. In this case, Russia would have to develop its national defense policy so that such threats would be eliminated, he stressed.
Yet again, the Russian leader called the North-Atlantic military bloc "a Cold War atavism," adding that it is not clear why the organization still exists.
Moscow would like the alliance to transform into a "purely political" organization as soon as possible, Putin said.
RIA Novosti/Mikhail Klimentyev
RIA Novosti/Mikhail Klimentyev
RIA Novosti/Mikhail Klimentyev