Mikhail Prokhorov shoots for Kremlin, but will he score?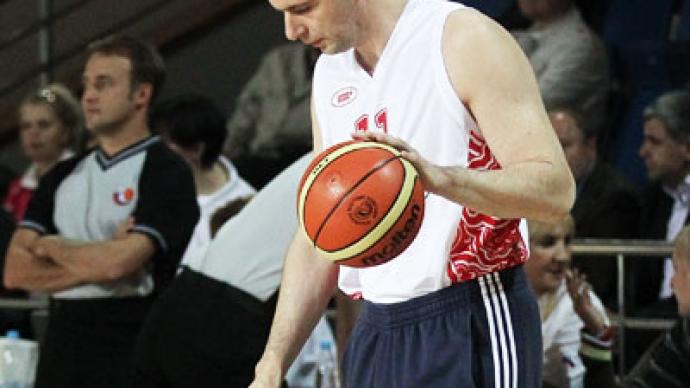 Russia's most eligible bachelor and third richest man, Mikhail Prokhorov, announced he would run as an independent candidate in the 2012 Russian Presidential Elections against the heavy favorite, Prime Minister Vladimir Putin.
Prokhorov, 46, made an early name for himself in business following the collapse of the Soviet Union. At the tender age of 28, when former state-controlled industries were undergoing a chaotic and sometimes violent privatization, Prokhorov, together with fellow billionaire Vladimir Potanin, engineered the acquisition of Norilsk Nickel by Onexim Bank, of which he was then chairman of the board.
Later successes proved Prokhorov had a real knack for boardroom battles. In April 2008, he suddenly sold his 25 percent stake in Norilsk, which netted him $7 billion in cash, in addition to a 14 percent stake in the Russian aluminum giant UC Rusal. The deal proved almost prophetic as Prokhorov was one of the few who emerged from the stock market crash of 2008 largely unscathed. Russian media was soon heralding him as "The Billionaire Who Saw The Crisis Coming."

Today, Prokhorov is ranked the 39th richest person in the world.
Although Prokhorov has proven himself a shrewd businessman over the years, his public relations department has not always fared as well.
Here is what Forbes wrote about him in 2006:
Since 2001 Prokhorov has been chairman of its most valuable holding, metals conglomerate Norilsk Nickel. A bachelor, Prokhorov is often featured in the gossip pages for his blowout parties on the French Riviera. But then it's back to work at his metals plant in the Arctic Circle."
In January 2007, French police arrested Prokhorov, along with about 25 others – many of whom were young women accompanying the tycoon to what had been described as a Christmas party – in the upscale Alpine ski resort of Courchevel on suspicion of running a prostitution ring.
Prokhorov told police he had brought the women because he enjoyed the company of "clever, beautiful and young female companions."
He spent four days in detention before being released without charge. According to his blog, he even received apologies from French officials during his visit to France in November 2009. Nevertheless, his image as a jet-setting playboy has been difficult to shake.
But it has not been all fun and games for the native Muscovite. Prokhorov, who stands 6 ft. 8 in (2.03 m), has the distinction of becoming the first foreign owner of an American basketball team, as well as the tallest. In May 2010, the National Basketball Association (NBA) approved the sale of the New Jersey Nets to Prokhorov, making him majority owner of the team with an 80 percent share, as well as a 45 percent interest in Barclay Center, the team's new sports arena.
Aside from hoping to preside over the world's largest country, Prokhorov and his possible future political rival, Vladimir Putin, have something else in common: a passion for martial arts.
According to his website, in addition to kickboxing, Prokhorov enjoys a game of basketball, track athletics and skiing. He is also reported to have built a private surfing complex in Turkey.
"For some sport is a hobby but for me it is a way to survive. It makes me calm, balanced and well-rested. Not tired but vice versa. I think sport balances off my work load," Prokhorov said, as quoted in an interview to Russian GQ magazine in 2009.

­Jump into political fray
In May, 2011, Prokhorov joined Right Cause, and shortly afterward he became the leader of the pro-business party. However, following an internal feud, Prokhorov was ousted from his position. But this setback apparently did not dampen his political ambitions.
Prokhorov announced on Monday he would run for presidency as an independent in the upcoming presidential elections in March.
"I made probably the most serious decision in my life. I am running for president," Prokhorov told a press conference, adding that he would have to collect signatures and register for the elections very soon.
Before his Monday press conference, Prokhorov posted an entry in his blog where he described his latest views on the political situation, in particular on the parliamentary elections and the subsequent protests over alleged violations.
According to him, Russian society has been developing faster than the state and that was the main reason why it is now experiencing problems. Prokhorov, who says Russia – given its record with revolutions – must avoid any sort of violent change of government. He then outlined several important points that he believes must be improved.
The first task is to create permanent places where citizens can express their opinions – taking the Internet into the streets, so to speak. He then said that the majority-rule United Russia party needed to be reformed, suggesting that Prime Minister Vladimir Putin become acting president to prepare and hold fair presidential elections because, in Prokhorov's opinion, he (Putin) is the only one at the moment who can control the country.
Prokhorov said publishing his political program will be his first task once he is officially registered as a candidate.