Warsaw aims to reinvigorate Polish-Russian relations – Polish president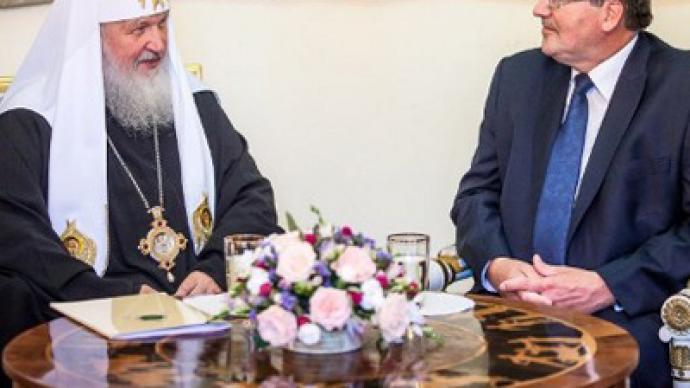 During a visit to Warsaw by Patriarch of Moscow and All Russia Kirill, Polish President Bronislaw Komorowski said Poland is committed to establishing good relations with Russia.
During a visit to Warsaw by Patriarch of Moscow and All Russia Kirill, Polish President Bronislaw Komorowski announced that his country intends to establish solid bilateral relations with Russia.
"We are hoping it will turn over a new leaf in our bilateral relations," Komorowski said on Thursday. The Polish leader, mindful of the turbulent history between Russia and Poland, expressed what he saw as the importance of reconciliation and forgiveness between neighbors.
"Reconciliation can only be achieved through communication based on fundamental values such as freedom and responsibility, love for your neighbor and forgiveness… We will strive to establish good relations between our countries," Komorowski said.
A joint address to the people of Poland and Russia will be signed during the visit of Patriarch Kirill, and the document will serve as "an important landmark in the development of our relations," the Polish President said.
"The persecution and suffering experienced by our Churches help us better understand each other," he said of the historic period when religion was stifled by Marxist ideology. "The Churches can do a lot to promote the development of Polish-Russian relations, help our peoples overcome the prejudices and stereotypes that prevent them from looking at each other with trust and hope."
Poland especially values the efforts made by the Russian Orthodox Church "aimed at disclosing historical truth," he said. Komorowski wished Patriarch Kirill health and wellbeing so that he might "serve the reconciliation between the people of Poland and Russia for many decades ahead."
Patriarch Kirill, in turn, hailed "the prompt arrival of a time when Russia and Poland will fully recover from the dark days of atheism," as well as the creation of a "world order based on everything good and true."
In an earlier meeting with the Presidium of the Polish Catholic Bishops' Conference, Patriarch Kirill stressed the central role of religion in cultivating relations between the people of Russia and Poland: "It's impossible to achieve a true peace between the people of Russia and Poland without active…dialogue between the two churches that have shaped the spiritual identity and culture of both nations."
Kirill thanked the Polish Catholic Church for approving the joint address on reconciliation.
The document, scheduled to be signed on Friday, marks the 400 years that have passed since the Moscow was liberated from Polish control, and the 200 years since Russia's victory over Napoleon, the Patriarch said.