Parliamentarians panic as MP pulls gun in conference hall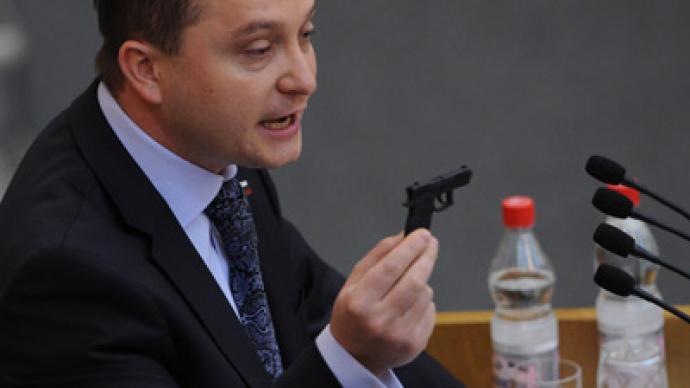 Several Russian MPs tweeted panic messages as they saw one of their colleagues pulling a pistol during the speech on citizens' rights to keep and carry handguns.
After Roman Khudyakov of the Liberal-Democrats produced a small pistol and demonstrated it to other MPs, outraged politicians started tweeting alarming messages. Vladimir Burmatov of United Russia asked his followers if Khudyakov was a relative to Dmitry Vinogradov – a lawyer who recently went on a shooting rampage in a Moscow office killing six people. Another United Russia MP- former figure skating champion Irina Rodnina tweeted that the security in the parliament offices must be too lax as it was possible to bring a gun to the main conference hall.
The man who drew the gun acted quickly to calm the panic. Khudyakov said that the 'gun' he pulled was in fact a small computer flash drive made to look like a pistol. "I wanted to show my colleagues that any woman can carry such means of self-defense in her handbag or even wallet," the MP said in an interview with the ITAR-TASS news agency. He carried on with pro-gun argument saying that freedom to carry would save a lot of lives and help fight crime as police and citizens would take the same side, with criminals on the other.
Russia has relatively free gun legislation when it comes to hunting and home defense – any citizen can get a shotgun or rifle license after passing a simple exam and providing papers proving that he is not insane or addicted to drugs (much like the driving license). However, handguns are not allowed for civilian use and are only issued to private security companies and shooting clubs. At clubs the gun must be kept at the shooting range and cannot be carried.