Opposition seeks 'Constitution repairs' to give Duma impeachment powers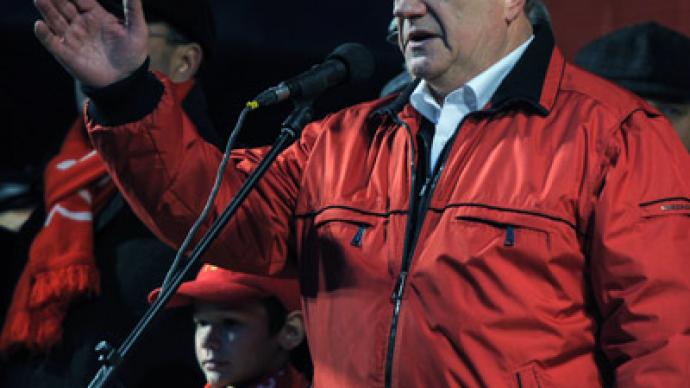 Leaders of leftist opposition parties in the Lower House say the Duma must receive the right to impeach the whole government and separate ministers.
The Communist Party of the Russian Federation and the more centrist Fair Russia party jointly stated at a roundtable that the Russian political system is biased and parliament has much less power than the executive, especially the Presidential Administration (it is this body that is often dubbed by press as "the Kremlin").
To fix this situation, the head of the Russian Communists Gennadiy Zyuganov suggested amending the Constitution. "I see no way out but to fix the Constitution and to limit the powers of certain persons from the presidential administration," the politician said, adding that currently "the Russian President – whoever takes this post – has more powers than the Tsar, Pharaoh and the Roman Emperor put together".
The parliament, in turn, lacks even basic control functions, Zyuganov stressed. "If the appointment of the Defense Minister went through two or three parliamentary committees, we would not have such outrage as the recently uncovered corruption schemes" the politician noted.
Zyuganov urged fellow parliamentarians to introduce several new laws in the near future to improve the situation – in particular, a law on Federal Assembly, a law on the Presidential Administration, a law on opposition and a law on the Constitutional Assembly.
The head of the Fair Russia party, Sergey Mironov, stressed that parliament must receive the right to impeach the government or its members, thus balancing the current situation when the candidate for Prime Minister is suggested by the President and approved by the Parliament.
Mironov also objected to the paragraphs on the "presidential filter" in the latest edition of the gubernatorial elections law. The politician noted that "all sorts of filters are depriving the citizens of their active and passive electoral rights". Apart from that Mironov urged the fast introduction of direct elections to the Upper House of parliament.
The Fair Russia leader added that the right of both parliamentary chambers to set up investigation commissions for extraordinary cases must be fixed in the Constitution. Currently Russian law allows such a move, but the procedure rules are so vague that such a thing happened only once in the modern Russian history – after the Sayano-Shushenskaya hydroelectric power plant disaster.
Mironov suggested parliament investigated all cases of power abuse on the part of all bodies of executive power, including law enforcement and special services, as well as heads of major state corporations.