Moscow calls for rule of law in Libya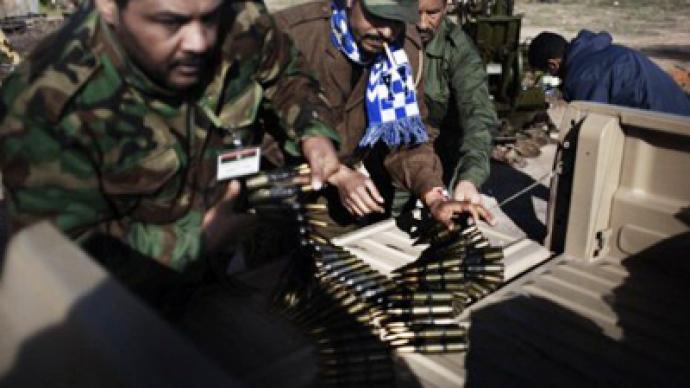 UN Security Council Resolution 2016, which lifts the no-fly zone over Libya, is a crucial step on the path to the normalization of the country, the Russian Foreign Ministry says.
­"This resolution by the UN Security Council stipulates that all measures imposed by UNSC Resolution 1973 to protect the Libyan population be lifted as of November 1, 2011," the ministry said on its website on Friday.

NATO fighter jets have flown more than 26,000 missions over Libya, delivering air strikes against 6,000 targets. Russia criticized NATO on various occasions during the conflict, saying the Western military bloc had exceeded the mandate set out by the UN resolution.

"Russia repeatedly pointed out that members of the NATO coalition allowed themselves an unacceptably broad interpretation of the [United Nations] resolution, thus grossly violating the mandate issued by the UNSC," the statement said.

The Foreign Ministry mentioned the massive damage that NATO's aerial campaign had inflicted on human life, as well as on Libya's infrastructure.

"This [military operation] led to multiple civilian casualties and serious damage to the Libyan socio-economic infrastructure as a result of massive missile and bomb attacks by NATO aircraft."

At the same time, Russia is willing to assist in the reconstruction process inside the North African country.

"In the framework of its traditionally friendly relations with Libya, Russia is ready to support the [reconstruction of the nation's] infrastructure," a source at the foreign ministry said, as quoted by Itar-Tass.

Meanwhile, the Foreign Ministry, stressing that the post-conflict settlement process must be conducted under the aegis of the UN, said the main task is to forge a government that represents the broad political spectrum inside Libya.

"The new Libyan authorities have been urged to stay committed to democracy and the rule of law, the principles of national reconciliation and to take whatever steps are necessary to prevent repressions and extrajudicial punishments," the statement said.

Russia had repeatedly raised with the UNSC the question of lifting the no-fly zone over Libya, it recalled.

"In doing so, we pointed to the radical changes in the situation in Libya," the statement read. "The civilian security threat from the former regime was removed and there were no grounds for the coalition to continue 'Operation Unified Protector.'"

The NATO Council on Friday acknowledged the decision of the UN Security Council to end the Unified Protector international operation in Libya, military-diplomatic sources have reported.

The operation will officially come to an end at 11:59 pm Libya time, on October 31.