United Russia should stop being modest – Medvedev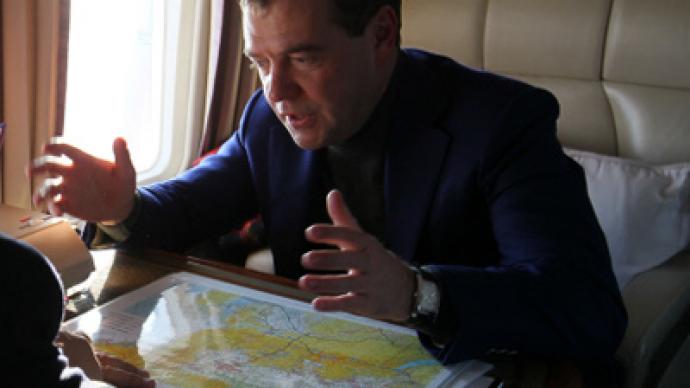 President Dmitry Medvedev has called on the majority United Russia party to talk about its achievements more often.
Medvedev confessed that when the party does something good – "and sometimes we do good things, whatever is being written or said about us" – he is asked to remind people about the achievements, but he feels "shy" about praising his party.
"It seems that we've already spoken about everything, everyone knows about that. Why would we compliment ourselves?" Medvedev said, adding that it is not really true. "No, [people] don't know. They don't hear," he noted while speaking at the session of the Public Committee of the Russian President's Supporters in the city of Yakutsk.
Medvedev urged United Russia, as well as everyone else "who are doing substantial things," to report about them more often.
As an example of such genuine deeds, he referred to Tuesday's event which he attended earlier in the morning – the opening of a new link connecting the resource-rich Republic of Sakha (Yakutia) to Russia's main railway network.
An active internet user who has accounts with several popular social networks, Medvedev pointed out that Russian authorities are fiercely criticized on the Twitter micro-blogging service.
However, he said, he was surprised to know that people often ask for one or another TV report to be rebroadcast, or have some particular topic discussed more frequently. That is because not everything is being heard about, he concluded.
Dmitry Medvedev heads the United Russia list for the December 4 parliamentary election. The party is chaired by Prime Minister Vladimir Putin, who is planning to run for the presidency in March 2012.