Medvedev on defense offensive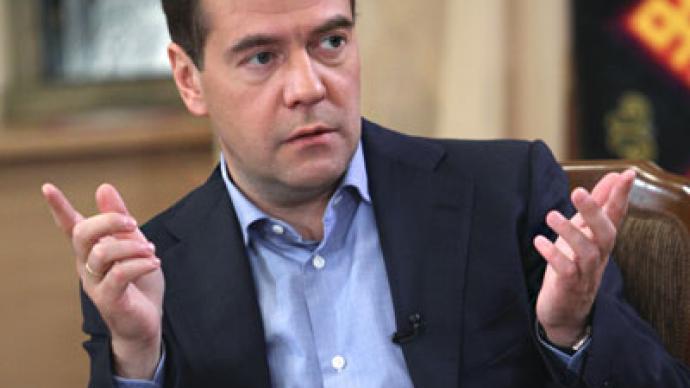 President Medvedev has said that there will be more reforms in Russia's defense sector with an aim to reduce the share of single-enterprise military-industrial cities that date back to Soviet times.
Speaking at a session of the Public Committee of Dmitry Medvedev's Supporters devoted to the problems of the Russian defense industry, the president said that the authorities had approved an unprecedented defense budget, but it must be spent wisely. Medvedev stressed the importance of personnel management and urged the heads of the defense enterprises to cut the costs.
"When our enterprises have territories the size of towns in other countries, we understand that simply maintaining them demands tens and hundreds millions of rubles. We should manage all this rationally. Maybe we should sell part of these land plots and cut the expenses. In this regard, our defense complex will face more changes," President Medvedev said.
Medvedev recalled that he was forced to fire the finance minister, who opposed the raising of defense budget, and said that the workers of the defense ministry must appreciate the move.
On the other hand, the Russian leader reminded the producers of weapons and military hardware that they must participate in tenders and the pricing must be competitive. He said that he was aware of the practice when subcontractors were artificially inflating the prices through internal arrangements, but added that if anyone wanted to get money from the government, they must earn it by offering competitive prices.
During the meeting with military servicemen in North Ossetia on Monday, the president said that the government would purchase new weapons and hardware for the military forces and also that it would buy separate samples of various foreign-made weapons "to make it clear what the foreign armies are armed with." According to Medvedev, this will force the Russian producers "to make even better weapons instead of having a nap."