Sergey Ivanov appointed presidential head of staff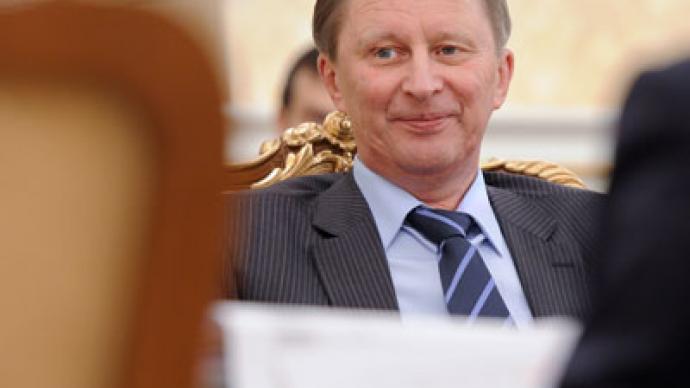 President Dmitry Medvedev has appointed former vice prime minister Sergey Ivanov the head of the Kremlin administration.
After delivering his annual Address to the Federal Assembly on Thursday, Medvedev signed a decree on Ivanov's appointment, Kremlin press secretary Natalya Timakova told journalists. At the same time Ivanov, 58, was dismissed from his previous position as deputy chairman of the Russian government.
The former chief of the presidential administration, Sergey Naryshkin, was nominated speaker of the lower house on Wednesday during the first session of the State Duma. Naryshkin, who worked as Medvedev's chief of staff since 2008, was elected a member of the parliament house in the December 4 parliamentary elections.
After Naryshkin left his post, Vladislav Surkov, the chief Kremlin strategist, became acting head of the Administration. It had remained unclear whether Surkov or someone else would replace Naryshkin in the Kremlin.
According to political analyst Evgeny Minchenko, the decision to give the job to Ivanov, who has been out of the public spotlight for about two years, was unexpected, but logical.
"At the same time, Mr Ivanov is a figure trusted by Putin," Minchenko told Interfax.
The ruling United Russia party has welcomed the news, saying that Ivanov is the right person for the job. Vice-speaker Andrey Vorobyov, the head of United Russia in the State Duma, described the new chief of staff as an "experienced politician, professional and self-confident."
Meanwhile, Sergey Mitrokhin, co-chairman of liberal party Yabloko, believes that the new appointment might be a sign that Prime Minister Vladimir Putin, the heavy favorite in next year's presidential elections, is preparing for his return to the Kremlin.
"It's very much likely that Putin has started forming his future political team," Mitrokhin told Interfax. "Perhaps he counts on Ivanov's extensive experience in the state machinery which he could use in a role of anti-crisis manager."
At the same time, Mitrokhin believes that it is more likely that Ivanov will be "a technical" figure rather than an independent politician.
Just like with Medvedev, Putin and several other leading Russian politicians, Ivanov was born in St Petersburg (formerly Leningrad), where he graduated from Leningrad State University in 1975; in 1976 he completed his postgraduate studies in counterintelligence at Higher Courses of the Committee for State Security (KGB) in Minsk.
Ivanov began his professional career serving in the Leningrad and Leningrad Oblast KGB Directorate, together with Putin, and later worked in foreign intelligence posts in Africa and Europe.
In August 1998, Sergey Ivanov was appointed deputy head of the Russian Federal Security Service (FSB), and from November 1999 to May 2008 he was a secretary of the country's Security Service.
In 2001 Ivanov was appointed Defense Minister and remained in that post till 2007, when he became first deputy chairman of the government.
Since 2008 Sergey Ivanov served as vice prime minister.